HTC Touch Viva budget Windows Mobile smartphone
Wrong features left out?
The Viva is full of such minor disappointments, but the major omission is the lack of 3G connectivity. For a device which is so well suited to surfing the web, the lack of a decent connection seems perverse. There's a Wi-Fi link, which is fine for connecting to your home network, work WLAN or if you're near a hotspot, but useless anywhere else. GPRS will just about do for checking your email, but tends to suffer badly when viewing big-screen web pages. The Viva also does quad-band GSM so you can make calls from almost anywhere in the world.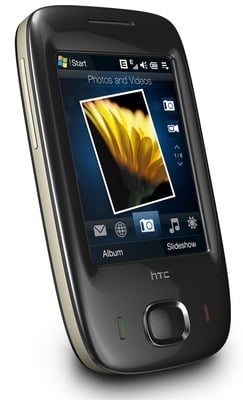 Wi-Fi, yes; 3G, no
Yes, there's the Touch 3G - essentially the 3G version of the Viva - and that's all well and good, but why bother with two models at all? We'd say Wi-Fi should have been the differentiator, not 3G: 3G in the Viva, 3G plus Wi-Fi in the better model. And a new name, of course.
The browser is the same as the one offered on other recent Touches and very nice it is too. Opera is the default, though you can also use Internet Explorer if you're feeling masochistic. Zooming in or out is easy using the slider at the bottom of the screen but another surprise omission is the lack of any option to view web pages in landscape mode. It's excusable that there's no accelerometer on board, which could automatically flip the resolutions from portrait to landscape, but with no manual setting you're forced to view pages in portrait mode, even though most are more suitable for viewing in landscape. There's the Mobile View setting, which is supposed to optimise web pages for display on mobile phone screens - basically, it crams all the links into a vertical stream. It helps, but it's only a stop gap.
Fortunately, video viewing is automatically offered in landscape mode, and HTC's YouTube app works very well indeed, when you can get a decent connection.
As you'd hope from a device with a limited spec, the battery life is quite good and gave us about two-and-a-half days of moderate use, which included leaving the Wi-Fi connected for most of the time. We've got no complaints about the call quality.
Verdict
Compared to previous Touch handsets, the Viva was always bound to come up wanting, though it's easy to see where the money has been saved. Unfortunately, some of the savings seem to undermine the Viva's strengths, which include a good browser - so it should really have 3G - and a better-than-average music player - but no earphones. A little bit more consideration of the Viva's strengths could have made for a much more satisfying handset. ®
Thanks to Expansys for the review sample
More Smartphone Reviews...

Palm Pré
video preview

Touch HD

BlackBerry Storm

Nokia N96
Sponsored: Minds Mastering Machines - Call for papers now open

HTC Touch Viva budget Windows Mobile smartphone
It's the cheapest Touch and it shows, but it's still got a few tricks to justify its bargain basement price.
Price:
Contract: from free. Handset only: £240 RRP