Archos dates, prices netbook
Coming later this month
The launch date, price and official specifications for the Archos 10 netbook have finally been confirmed by the French manufacturer.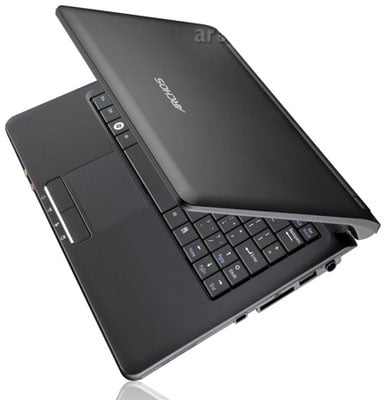 The Archos 10 will be available this month
Punters can pre-order the machine on Archos' website for £350 ($511/€388), with the first shipments expected to leave its warehouse towards the end of January.
As previously reported, the Archos 10 has a 1.6GHz Intel Atom N270 processor under its dinky hood and 1GB of DDR 2 memory. A 160GB hard drive also features.
The 1024 x 600 resolution screen measures 10.2in and, according to Archos, the machine has an "ergonomic keyboard" – although we can't see how it differs from any other weeny netbook keyboard.
Fans of cabled internet access can get online using the Archos' 10/100Mb/s Ethernet connection, or through the PC's integrated 802.11b/g Wi-Fi.
A 1.3Mp camera is integrated into the netbook's lid and you'll be able to collect images taken on your compact camera using the machine's four-in-one memory card reader. The Archos 10 also has three USB ports. ®
COMMENTS
So the key differentiator is .......
it's £50 more than everyone elses.
Attack of the Clones
That looks stunningly uninteresting. Isn't it about time someone came up with a NetBook that wasn't an exact copy of every other NetBook? Why would I pre-order something I can pick up already (just wearing a different badge)?
UK price is not the same as USA and the rest of EU
The price is £349 in the UK
$399 in the USA
€349 in the rest of Europe
That positions the Archos 10 at cheaper than the Asus and Samsung netbook MSRP prices with the same hardware configurations.