Archos 10 netbook specs leaked
Pics too
Pictures and specifications of Archos' upcoming entry into the netbook arena have been leaked online.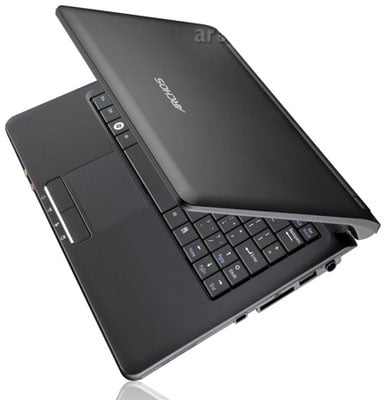 Archos' Archos 10: bog-standard spec
The firm's yet to make a formal announcement about the Archos 10 machine, although it was anticipated that it would do so at CES last week. But online sources have already claimed that the firm's machine is actually a rebranded machine made by Asian manufacturer Hasee.
And this could well be true because the duo have almost identical specifications. For example, both sport a 1.6GHz Intel Atom N270 processor, 1GB of DDR 2 memory and a 160GB hard drive.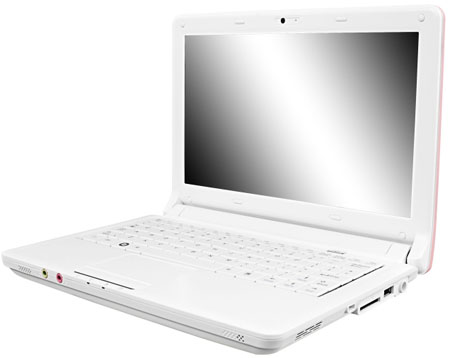 Hasee's MJ125: looks familiar?
Since it's a netbook, the Archos 10 has a 10.2in, 1024 x 600 screen – as does the MJ125, we might add. Web access comes courtesy of 802.11b/g Wi-Fi. There's an Ethernet port too.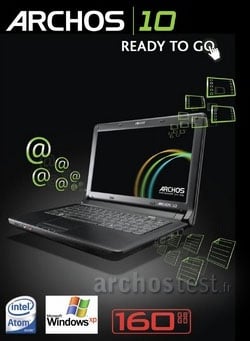 An advert for the upcoming Archos 10?
A webcam's integrated into the Archos' lid, and you'll get three USB ports. You may also be treated to a four-in-one memory card slot, because the MJ125 has one.
A launch date or price hasn't been leaked yet. ®
COMMENTS
Hello (hello...ello...lo...lo....o....o.....o....)
Has everyone gone home already? D'ya think this is what those social commentators call a "saturated market" when no one, not even El Registas can be bothered to chime in with questions on:
1. What OS is it? I want *nix but not your flavour as mine is D4 B0ll1><
2. What rez is it?
3. How long to boot up?
4. Why no SSD as I want SSD?
5. What colours can I get it in?
6. How long will the battery really last?
7. Why get this when a (deep breath) Eee 700/701/900/901/1000/1001/Samsung NC10/Asus S101/N10/Commodore/Lenovo/MSI/ (I GIVE UP - TOO MANY!) is the one that not only I want to use rather than this, but I already have...
How times area a-changing... it's like a graveyard here!
Hidden extras?
I wonder how much they'll be charging for codecs or web browser on this netbook like they do with their media players? How about a charger, will that be included or be an optional extra? Cynical about Archos? Moi?! I love my AV500 but have not upgraded as I don't want to have to pay extra for things that should be standard.
Similarities...
Yes, it does look like a rebadge, but the specs of course apply to 99% of netbooks, since all the manufacturers are scared to exceed those allowed by Microsoft if they want to pre-install XP.