Mole leaks HTC's 2009 phones
Picture database shows upcoming models
Pictures have been leaked online of what's claimed to be HTC's entire 2009 handset line-up.
The images originated on Chinese website DIYPDA and, despite several identical looking designs, 20 differently named phones appear on the list.
Technical specifications aren't included and so our analysis can only be based on what we see and can gather from the short-but-sweet codenames accompanying each picture.
For example, a talker codenamed 'Sapphire' appears three times; once simply as Sapphire, but then again as the Sapphire 1.5 and also as the Sapphire 2.0. Do the numbers refer do models with different features? Does 2.0 sport a faster HSDPA connection than its predecessor? We can only guess.

HTC's Sapphire 1.5 (left) and Sapphire
All three Sapphires look identical and have design characteristics akin to the T-Mobile G1. However, Sapphire's curved bottom section is less obvious than the G1's. The new HTC phone also has a tracker ball for navigation and a rear-mounted camera.
Although it's been widely rumoured that HTC's planning a second Android-based phone – the G1 being its first – the only reference to Google's OS in this line-up comes from a garish pink phone codenamed both 'Hero' and 'Android Hero'.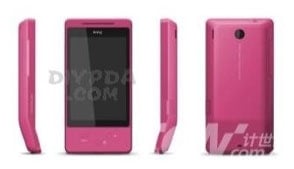 Hero looks much like the G1
This phone also looks similar to the G1, but has squarer edges and lacks the G1's physical menu button.
Since other HTC phones on the list with slide-out keyboards are shown in their open positions, it's reasonable to assume that Hero only has an on-screen keyboard – a feature that's rumoured to be en-route to the G1 and which has already been seen in a YouTube video.
Eleven of the new phones sport physical keyboards. The most interesting model is codenamed 'Thoth' and 'Athena 2', and it appears as though the phone docks onto a portable keyboard.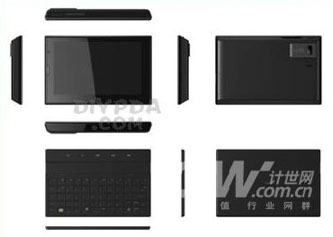 Thoth: a phone-cum-mobile PC?
HTC's played around with this format before with a device called Advantage that's refined to its mobile computer category. Thoth looks more like a digital camera though, thanks to a touchscreen that covers its entire surface and a rear-mounted camera hidden over in a corner.
'Whitestone W' also caught our attention, because an integrated kickstand makes it look like Nokia's N96.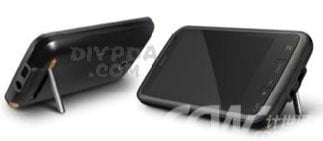 Whitestone W looks like Nokia's N96
Hopefully the HTC talker's been designed with film fanatics at heart. A selection of physical keys run along Whitestone's bottom surface, which could be film shortcut keys.
The other models all look exciting too, but in their own ways. The only disappointment from this gargantuan picture splurge, aside from the lack of any specifications, is that we can only speculate about when and where each model might appear first.
The full list of HTC phones is available online here. ®
Sponsored: Minds Mastering Machines - Call for papers now open