DisplayPort revision to get mini connector, stereo 3D
Apple's MacBook monitor port to enter standard
Laptop vendors will be soon be able to use the same mini-DisplayPort connector found on Apple's latest MacBooks.
The tiny port is to be included in the upcoming DisplayPort 1.2 specification, the standard's overseer, Vesa, said last week. The digital monitor link tech is to get stereoscopic display support too.
DisplayPort 1.2's central improvement is a doubling of available bandwidth to 5.4Gb/s. In part, that's to provide sufficient throughput for a display to switch rapidly - at 120Hz - between left- and right-eye images at 1920 x 1080, enabling stereoscopic 3D pictures.
However, the increased bandwidth will also allow 3840 x 2160 resolutions to be reached with a colour depth of 30 bits per pixel.
Just as resolution can be traded for fast flipping between stereoscopic component images, it can also be reduced to allow simultaneous multi-monitor support over a single connector. Vesa said DisplayPort 1.2 will drive, say, two 2560 x 1600 monitors, or four 1920 x 1200 screens, all assuming the source system has the graphical welly to render the images in the first place, of course.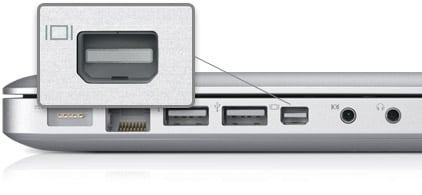 Apple's DisplayPort mini-connector: soon to be standard
Vesa anticipates all these monitors hooked up in a chain rather than a four-way split cable.
Vesa reiterated its plan - announced a year ago - to expand DisplayPort's auxilliary data channel so it has sufficient capacity to handle USB traffic, enabling monitors to include USB ports, webcams, microphones and the like.
At this stage it's unclear whether the Apple-designed mini connector will support these features, or will simply provide DisplayPort 1.1 connectivity, exchanging capacity for size.
We should find out by the middle of the year, when the DisplayPort 1.2 specification is set to be published. ®
COMMENTS
Enough freakin' connectors, guys?
So, for about 15 years, all anybody used was VGA on a 15-pin DE-size connector. The oddballs were too marginal to worry about. (Sun's DB13W3 thing, Apple and their DA-15, etc).
Then along comes DVI and all hell breaks loose. Inside of a decade, we've got DVI in three variants that don't always plug into each other, mini DVI, micro DVI, HDMI, mini HDMI, micro HDMI, DisplayPort, micro DisplayPort, and most of those little connectors look so similar you can't describe them to someone over the phone.
I used to carry a $5 DA-15-to-VGA adapter, to help out the mactards who'd come ill-prepared to conferences and be unable to plug into the projector. Today, carrrying a full set of adapters would set me back more than a week's pay. Bite me, Apple. Your users are on their own!
At last...
Okay, when this rolls out (and people use it) I'll finally stop complaining that DisplayPort is pointless. I'm assuming that they'll keep the connector compatible, rather than shooting themselves in the foot like the HDMI consortium did with the type B connector that nobody uses. (Yes, a double bandwidth DisplayPort connector is only slightly more capable than a type B connector with HDMI 1.3 340MHz transmitters, but since there's noone using them I can't really say it's a better "standard".)
Fingers crossed this hits the shelves soon and we stop pushing the old technology as the next big thing. (If only HDMI 1.3 had taken off a bit faster.)
Flames in honour of the IO that can run at 7.2GHz. A dongle would actually make a T221 useful under Vista!