Ford roadmaps electrics for 2010, 2011, 2012
Fiesta to the fore?
'Leccy Tech Ford has outlined its 'leccy car roadmap at the Detroit Motor Show.
Perhaps the most interesting announcement was of a small electric car to be developed in partnership with Canadian auto-engineering outfit Magna International.
It will have a full charge range of 100 miles, a lithium-ion battery pack, a single-speed transmission, a six-hour charge time from a 220V outlet and will be available to buy in 2011.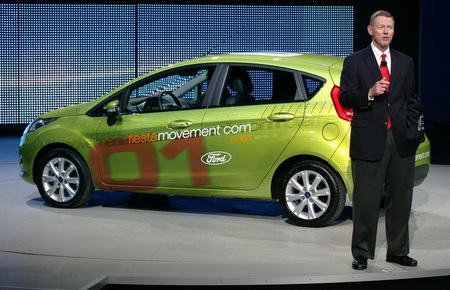 Ford Fiesta and friend (Alan Mulally, Ford President and CEO)
A fair bet then we are talking about an electric version of either the new Ka or Fiesta, probably the latter as one was on stage behind the assembled Ford suits during the presentation.
Also announced was a small electric commercial van for 2010 – most likely a 'leccy version of the current Transit Connect - and plans to expand Ford's hybrid fleet with plug-in hybrid versions of the next-generation Focus and Fusion models. The first Ford PHVs will hit the streets in 2012.
Bill Ford's words of wisdom on all this? "Ford is heading in the direction America and our customers want us to go, which is a green, hi-tech and global future... I think that is where society would like to see the entire industry go, and Ford is going to lead that charge." ®
Sponsored: Fast data protection ROI?