Hands on with Samsung's touch-controlled P3 media player
Finger-flicking good
CES As soon as you lay hands on the Samsung YP-P3, the first thought that will go through your head is what a nasty bit of plastic tat the P2 is by comparison.
Clearly someone at Samsung has been looking at recent Apple and Cowon players and decided to up the quality of the company's builds. The results speak for themselves: with its brushed metal back and solid glass front, the P3 is by far the most solid device we have seem from the Korean maker.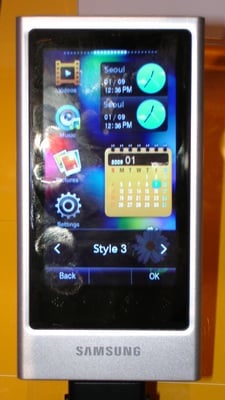 Samsung's P3: widget-based UI
Though the 480 x 270, 3in screen doesn't set any new standards, it looked bright, clear and crisp when the pre-loaded videos played.
With the exception of the volume control at the top of the device the P3 is controlled using the capacitive touchscreen, and a pretty effective control interface it is too.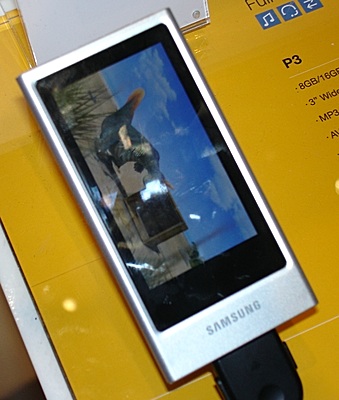 The touchscreen is very responsive
Swipes and prods generally resulted in an immediate and rapid response, the only fly in the ointment being the widget control bar, which had a habit of popping up for less than a second before vanishing. We were assured that this is a known bug in the firmware that will be ironed out before release.
Being a Samsung, the P3's touchscreen comes with a full range of haptic buzzes and beeps. Thankfully, they can all be turned off.
The widget-based control interface is very similar to that of the T-Mobile G1 phone – you add or remove widget icons as your needs dictate and then spread them out over as many pages as you think necessary.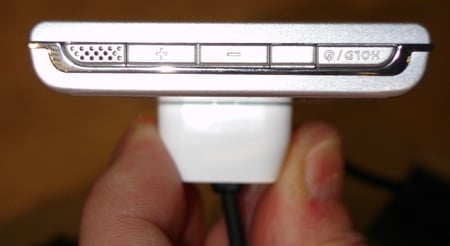 It's thin - note that the blob we're holding was the anti-theft dongle
Start really spreading your widgets out and you soon discover you can actually have five pages' worth, though the page indicator at the top of the screen only highlight pages with active widgets. Remove them all from a page and it effectively ceases to exist until you put a widget back.
COMMENTS
Hygiene?
Touchscreen this, touchscreen that - it's not necessarily intuitive, it's not necessarily the best solution, and it's not necessarily hygienic, especially if you let other people use it, and more so if either or both of you have a cold. What's this obsession that everything has to be touched to be used? Fine for mobile devices, I suppose - not regarding the caveats above - but I quite like the keyboard/mouse/monitor paradigm: I don't want to look DOWN to see my screen, but I don't want to reach UP to use my controls, either. Seperate control and viewing mechansims are a great solution. Oh, I'm sure on larger devices you could have a primary screen for viewing and a touchscreen for controlling, but that kind of defeats the purpose, and invalidates all those years of learning to touch-type (a skill that seems to be lost amongst the younger generations anyway, so I suppose it's irrelevent).
Er, </rant>.