Hands on with Sony's PRS-700 ebook reader
Real page turner...
CES Since we Europeans seem a far more literate bunch than our colonial cousins, it rather begs the question why on Earth the Shermans get the new Sony ebook reader while we don't.
The PRS-700 was released in the US back in October 2008 - a month after its predecessor, the PRS-505, finally made to the UK. So we haven't had our hands on the new model until now, courtesy of CES.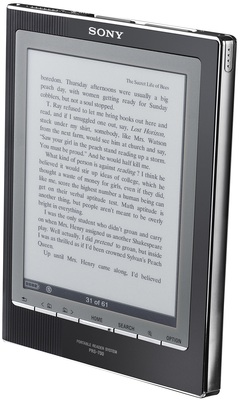 Sony's PRS-700 Reader: so much more than its predecessor
It wouldn't be such a big deal if the 700 was only a warmed up 505 but having just spent half an hour mucking about with one at Sony's CES stand, we can report that it is so much more.
OK, a lot of the basics are the same: the screen is still a 6in E Ink affair, the unlit battery life is the same as before, as is the file support portfolio, while physically the 700 is a shade heavier and wider than the 505, if a little shorter.
The big - and we mean BIG - differences are the touch screen and the integrated reading light.
The touchscreen UI is - not to beat about the undergrowth - superb. Reaction is nigh on instant, making flipping pages a simple matter or dragging your finger to the left or right. Page transition is also much faster than it is on the 505, making for a far more fluid reading experience and reducing the rather annoying black-out-of-grey to grey-out-of-back 'flash' of the 505's display. Thankfully, Sony has resisted the temptation to include any fancy page-turn animations.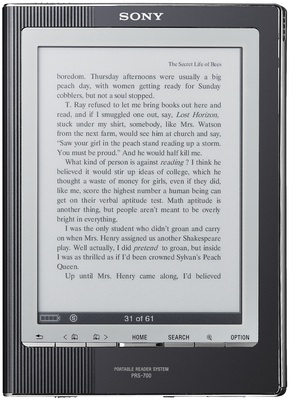 To begin at the beginning...
The two intensity setting screen light emits a pleasant blue-ish glow from around a page's periphery - at least it looked blue to us under the unforgiving neon of the Las Vegas Convention Centre - which we suspect will make for pretty easy low-light reading.
When we asked what sort of impact using the light has on battery life, the reply was a little evasive to say the least, which suggests it may be dramatic.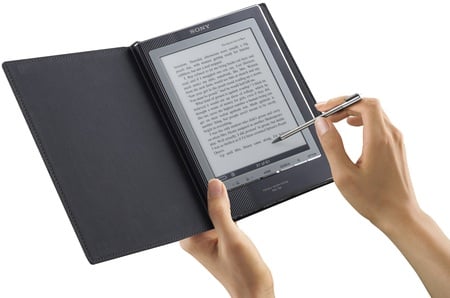 Note-taking feature included
The new device also features a note-taking option complete with virtual keyboard and physical stylus - though it also works well enough with the Mk. 1 finger. This is something we can see coming in handy. It also has a useful zoom function.
Sony is currently selling the two models side by side in the US, the 505 at $299 (£197/€222), the 700 at $399 (£263/€296). Is it worth the extra hundred bucks? Is the Pope Catholic? Is Luxembourg small? Come on, Sony, stop playing silly buggers and release the thing globally. ®
Related Review
Sony PRS-505 ebook reader
Sponsored: Minds Mastering Machines - Call for papers now open