LG KC870 cut-price 8Mp cameraphone
Big camera, low price
Pressing the side camera button slips the phone into camera mode, firing up in around three seconds, automatically rotating the screen into landscape viewfinder orientation. There's no lens cover protecting the optics, so you're ready to shoot there and then. You can use the camera with the slider open or closed, though we'd recommend the latter for a more stable grip.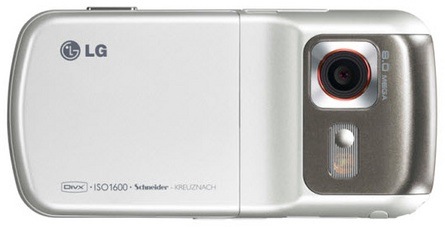 LED lighting not xenon
The KC780 has a less sophisticated camera user interface than the Renoir's impressive UI, though it has plenty to offer.
A set of five fast-access options, including flash and macro mode, are displayed as a column of icons at the side of the screen, with further settings accessible by menu. Here you can explore the extras LG has added. There's a familiar selection of auto metering overrides – such as white balance and exposure – plus resolution options, colourisation effects, panorama shooting, multi-shot option and a timer. You can also adjust the ISO rating, from 100 to 1600.
LG has included a face-detection setting and a smile shot feature which holds off snapping a picture until it sees that the subject you're shooting is smiling. Both these options work well, even indoors under reasonable lighting. The face detector locks on surprisingly effectively within a few metres of the subject. We'd wonder how often you'd really need smile detection, but within a few metres with a clear view of a subject, the KC780 mostly got it right.
An image stabiliser function is included too, plus a "Smart Lighting" option for balancing out shots taken in tricky, high-contrast light conditions – though this drops the resolution to one megapixel. Enabling panorama mode drops it further, to 0.3Mp.

The face-detection system works well
Not all of your shooting settings are retained when the camera is switched off. Although options like Smart Lighting, panorama and face-detection are automatically disabled when the camera's closed down, if the phone's switched itself to a lower resolution setting, it will restart at that resolution, not at 8Mp – so you'll have to reselect a higher resolution in the Settings menu if you want to avoid taking grainy shots.