LG KC870 cut-price 8Mp cameraphone
Big camera, low price
The display is a fair sized 2.4in, 240x320 screen. Though smaller than touchscreen eight-megapixel phones, it's decent enough for this lower level handset, giving ample viewfinder room and reasonable screen space. An on-board accelerometer automatically flips the screen view between portrait and landscape, depending on how the phone's being held, but only for certain functions, such as image and video viewing. The motion sensor is also employed for a selection of motion-controlled 'M-Toy' games.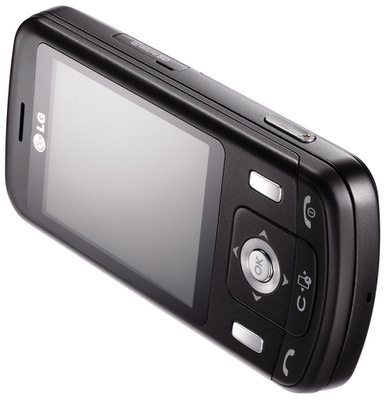 There's a motion sensor to detect phone flips
The phone isn't the most stylish handset you'll come across. Its functional black (or silver) bodywork looks plain and unremarkable. The navpad is large enough for easy pressing, though the down arrow is adjacent to the Clear key, and can be susceptible to being caught by straying thumbs.
The Clear key doubles up in standby as a Dashboard key, pulling up three applets - an image viewer, a calendar and a clock - on screen.
The navpad has pre-programmed shortcuts, including a Favourites list of most-wanted functions. The menu system is a familiar grid of icons - or a list - that leads into sub-menus where options can be scrolled through or selected by pressing the appropriate number next to the option on the numberpad.
The numberpad itself is fine. The numbers are nice and large, and rows are separated by slivers of chrome trim. Buttons on the same rows are formed from a single piece of plastic that's bumped to differentiate the keys. A slight curve on the rows helps keep fingers in the right place. The pad is springy and responsive, so good enough for fast texting.

Micro SD cards are supported but you don't get one in the box
Out of the box, LG sets up the KC780 with animated changing scenery wallpaper that's a bit cheesy for a phone that's supposed to be taking imaging seriously. Similarly, the gimmicky fonts are a bit of a turn-off.
Sponsored: Minds Mastering Machines - Call for papers now open