iRiver edges in angular photo frame/ web browser/ clock/ pmp
Minimalist media player too
CES Good news for fans of iRiver, a company that often gives the impression it doesn't know where Europe is to be found on the map.
iRiver used CES to demo the Wave Home, a rather handy looking "multimedia communication device" that's part PMP, part web browser, part VoIP and IM device, and part digital picture frame/alarm clock.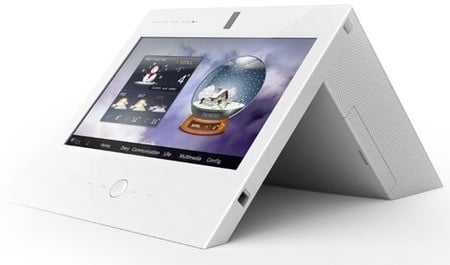 iRiver's Wave Home: on the side of the angles
The Home is controled by a very slick and fluid widget-based touchscreen UI which also allows for instant news, weather and the like to be displayed on the "desktop". The screen itself is 7in corner-to-corner, has a resolution of 800 x 480 and is flanked by a couple of rather decent-sounding speakers.
The Home also has a 1.3-megapixel camera and SD card slot. It looks like it needs to be hard-wired into the internet, though, as there was no mention of Wi-Fi and questions about said resulted in furrowed brows and unsure mutterings from iRiver staffers.
iRiver's move into domestic network devices may also result in a move into the European market, according to the iRiver oppo we spoke to. About time too, we say, as the Home is something we would like to give a longer poke with a stick - from what we saw it looks like a rather nice idea rather well executed.
Also on show was the P7 pmp with a fine-looking 4.3in, 480 x 272 screen, a very slick touchscreen UI and a choice of 4, 8 or 16GB of storage plus a Micro SDHC memory card slot for more. Unlike the rather sparse screen layout of the iRiver Spinn, the P7's screen is made up of various images and information boxes making it not only far more interesting to look at but also easier to use.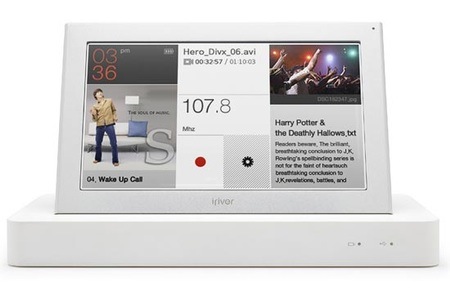 P7: fine-looking touchscreen UI
According to iRiver, the P7's battery will keep the home fires burning for 50 hours of music playback. Not a bad number, assuming it's correct.
The Home Wave is will be out in the US "soon" and will retail for around the $400 (£263/€291) mark. The P7 is currently only slated for release in Korea. ®
Sponsored: Minds Mastering Machines - Call for papers now open