PS3 goes 3D
Take that, Xbox 360
Sony has wowed CES with a demonstration of the PlayStation 3 in 3D.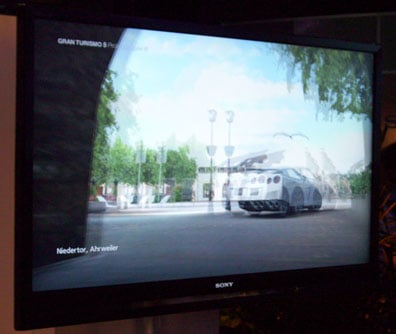 Sony's developed 3D PS3 gaming
A Sony representative told Ars Technica that the PS3 display is "a look at what 3D could look like if Sony dedicated to move in this direction".
We certainly hope it will, because the Japanese electronics giant let fans play a 3D version of Wipeout HD at its CES stand. Sony also had 3D versions of Gran Turismo Prologue and MotorStorm on display.
Sony's keeping mum about the technology. But we know that, for the time being, gamers must wear those dorky 3D specs.
Best start saving up now. ®
COMMENTS
re: PGR4 had a 3D race mode!
That's just cheesy old fashioned 3d tech. Clearly you havn't bothered reading the Ars Technica article...
PGR4 had a 3D race mode!
Don't want to burst anyones bubble here but didn't PGR4 have a 3D mode for anyone who had the silly glasses?
Making something 3D isn't that impressive, and the technology has been around for years. I'm sure if any games dev wanted to make a 3D game they could easily manage to overlay 3 images and get the colour filtration right.
re: what to save up for
to pay for the stereoscopic glasses?
You know, like the ones you got with the Sega Mastersystem?
Best start saving up now
Why? It was shown on a PS3.... What is there to save up for exactly? Microsoft are the ones famous for price reaming at every opportunity. This is likely to be a free PS3 update.