Sapphire HD4870 X2 Atomic water-cooled graphics card
Liquid engineering and the world's most expensive graphics board
It was also noticeable that our GeForce GTX 280 kept pace with the HD 4870 X2 until we cranked up the image quality settings and added anti-aliasing to stress the graphics to the maximum. On the Core i7 system there was very little to choose between the standard HD 4870 X2 and the Atomic apart from the reduced noise level of the water cooled graphics card.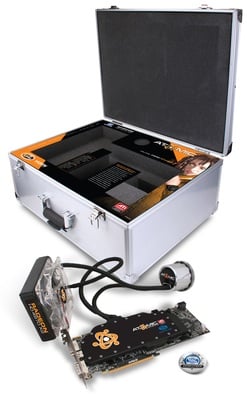 It was a different story when we changed to the 3GHz Core 2 Quad. At low resolutions the reduction in processor power really hurt the Radeons while the GTX 280 was unaffected. This indicates that the bottleneck in performance lay with the CPU on these settings but this may not be immediately apparent as the 3DMark Vantage figures seem to say something different. In fact the Atomic score is much higher than the reference HD 4870 X2 because one of the game tests repeatedly suffered from bad artefacts which had the curious effect of raising the GPU score by 30 per cent. Although the GPU was running at the same low temperature of 50° under load that we had seen on the Core i7 system, we noted that the idle temperature had risen from 35° to 45°. This was presumably a result of adding the CPU cooler into the equation as we now had an extra source of heat to contend with. However, we found that the Atomic system did a superb job of cooling our QX9650.
It's tempting to be flippant about the Sapphire Atomic and say that it bombs out or that it costs as much as a nuclear reactor, but the simple fact is that we can't imagine anyone spending £590 on a graphics card. If we take a charitable view, you're paying £400 for the graphics card and £100 for the water-cooling hardware. Sapphire packages the Atomic in a spiffy aluminium briefcase that must carry a cost and which presumably is expensive to ship from the Far East to Europe.
Add in the fact that you don't have to water cool the graphics card yourself and you retain your warranty, and the Atomic starts to look like fair value. The problem is that the price tag is colossal and you don't get an appreciable increase in performance for your money, so you're effectively paying a stiff premium for peace and quiet.
Verdict
Sapphire has added an Asetek water cooling kit to a £400 Radeon HD 4870 X2 graphics card and the result is a very, very expensive 4870 X2 that can also cool your Core 2 processor. The absence of a Core i7 adaptor is bonkers. ®
More Graphics Reviews...
| | | | |
| --- | --- | --- | --- |
| Radeon HD 4000 series | Fusion for Gaming | Sapphire 4850 X2 | Nvidia GTX 280 |

Sapphire HD4870 X2 Atomic water-cooled graphics card
That rating's 90 for performance, 90 for novelty and 30 for the huge cost.