Sapphire HD4870 X2 Atomic water-cooled graphics card
Liquid engineering and the world's most expensive graphics board
Sapphire's take on things is rather more sophisticated, as the Atomic is a prebuilt cooling system that uses Asetek LCLC hardware that's ready to plug into your PC. The GPU water block is attached to the HD 4870 X2 graphics card with six screws and covers both GPUs as well as the 2GB of GDDR 5 memory. The 6.3mm water hoses are connected to the CPU water block and the heat exchanger, which has a 120mm fan mounted piggyback style.
The CPU water block has the pump mounted on top and there's no separate reservoir of coolant so the whole setup is compact and neat. Once the graphics card is installed and the CPU water block in place, you only have to attach the heat exchanger to a suitable mount inside your case, probably at the top, and you're good to go. There are no hose connections to make, no coolant to fill, no bleeding and little likelihood of leaks.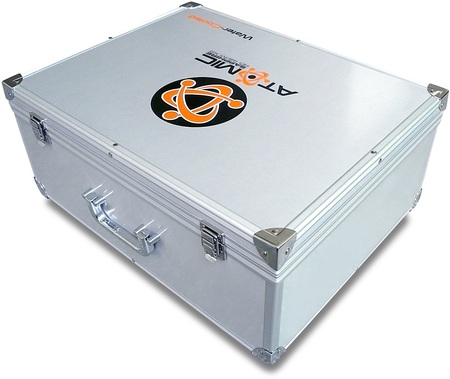 It all comes in a metal box
A couple of points stand out here. If you already use water cooling in your PC then Atomic probably isn't for you as you'll have to ditch your existing hardware. Installing the Atomic is relatively easy as you only need to replace an existing 120mm case fan with the heat exchanger/fan combo, but we hit something of a problem with the CPU block. It measures 70mm in diameter and has a series of crenellations around the circumference that engage with a retainer that locks the water block to the motherboard.
There are two of these retainers in the Atomic package: one for Intel LGA775 and the other for AMD AM2, which leaves a rather enormous Core i7-shaped hole in the proceedings.
We are told that the Atomic package was finalised before Core i7 was launched which sounds odd as LGA1366 coolers first broke cover ages ago. It seems highly unlikely that anyone would contemplate spending nearly £600 on a graphics card and then hobble it with a Phenom, and it seems equally unlikely that Sapphire will exclude the Core i7 brigade for long.
This gave us something of a problem as we wanted to test the Atomic with a Core i7 965 Extreme as it is the biggest, baddest desktop processor on the market, making it the natural partner to this graphics card. The problem is that we couldn't test the CPU cooler on the Core i7 so we were forced to also run the Atomic on an Intel DX38BT motherboard with Core 2 Extreme X9650 so we could give the water cooling a proper run for its money.
Sponsored: Minds Mastering Machines - Call for papers now open