TomTom debuts satnav DVD player
'At the next left turn watch Goodfellas'
Satnavs built into the car dashboard may look the business, but are a security risk. And suction cup satnavs often get in the way. So, TomTom's latest in-car navigator combines the best of both worlds - and throws in entertainment feature for good measure.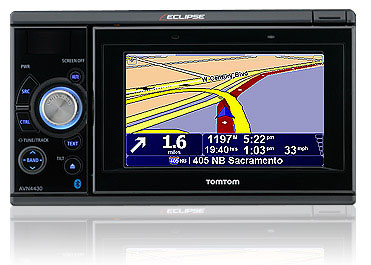 The Eclipse AVN4430's detachable screen is a satnav and entertainment screen
TomTom has teamed up with car electronics firm Fujitsu Ten to create the Eclipse AVN4430 - in essence, a fixed in-dash entertainment system with removable satnav.
The companies jointly created the Eclipse AVN2210P in 2007, but this latest second series device has a touch-sensitive 4.3in display that can work as a satnav when docked or taken out of the car.
All TomTom's standard navigational features come with the unit, including the firm's Mapshare software, a selection of navigation voices and points of interest.
The fixed docking unit also features a hidden CD/DVD slot that will let you watch films on the docked display while you're waiting to pick up the kids from football practice.
If music's more your thing, the dock unit has a cable connection suitable for iPods and a USB port, through which still images can be accessed and displayed on-screen. Hands-free calling and voice recognition also mean you can take calls when speeding down the motorway
The AVN4430 will hit US highways later this month for around $850 (£569/€623). A UK price hasn't been announced yet. ®
Sponsored: Application managers: What's keeping you up at night?