SanDisk's faster netbook flash
Tipping point approaches?
SanDisk has announced new netbook and USB thumb drive flash products at the Consumer Electronics Show in Las Vegas.
Consumer flash
It has mimicked the Maxtor OneTouch backup idea with a flash drive. The Ultra Backup USB flash drive will backup files when a button is touched and stores from 8GB to 64GB of data. Access to the data is password-protected, and the data is encrypted with 128-bit AES hardware with a user-supplied key string. SanDisk says no software needs installing and everything is extremely simple. Yes, that's all very well, but completely automated backup, like Apple's Time Machine, is even simpler. Still, a 1-button USB backup flash drive is a neat idea and that's probably as far as you can go without sticking software on the host desktop or laptop.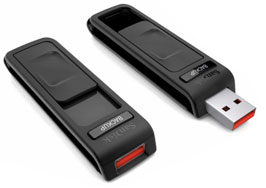 With no software to install, the software on the drive must just copy default folder contents, such as My Documents.
This is one member in a 3-product family. The existing SanDisk Cruzer, holding up to 32GB of data, has been given a new look by frog design - no capitals because it's so trendy - which also designed the Ultra Backup and new Extreme Contour flash drive, the third member of the family. This offers 256-bit AES encryption and more performance, with 25MB/sec read and 18MB/sec write speeds.
SanDisk says design elements include "juxtaposed L shapes that create a dynamic, yet balanced, composition, a bright red USB connector and a simple cap-less design, which exposes the USB connector for use via a dynamic sliding mechanism."
The Extreme Contour USB flash drive is available in major retailers now, but the other two drives won't appear until April. The Cruzer drive will have capacities of 4GB-32GB with MSRPs ranging between $24.99 and $99.99. The Ultra Backup drive will have MSRPs ranging between $39.99 and $199.99.
Netbook Flash
SanDisk has announced its second generation solid state drive products for netbooks in the shape of pSSD 1.8-inch form factor flash drives. The first generation, launched in June last year, used a parallel ATA interface and offered 4-16GB of capacity with 2-bit MLC (multi-level cell) flash technology. They did sustained reads at 39MB/sec and sustained writes at a paltry 17MB/sec and did not take the world by storm.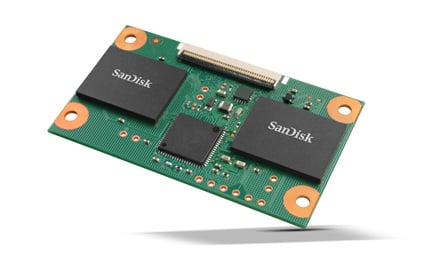 The revised product uses, we think, 3-bit MLC technology with capacities from 8 to 64GB and a 43nm process. There are three models: pSSD, pSSD-P2, and pSSD-S2. Each uses a 3Gbit/s SATA 1 interface. SanDisk hasn't said how the three models differ.
SanDisk says they use an All Bit Line architecture, meaning that their performance is boosted by simultaneous sensing of all bit lines connected to page buffers. This could boost their performance two to three times compared to equivalent density MLC flash not using ABL technology. This might be the mystery technology referred to as being needed to match or beat hard disk drive I/O speeds by SanDisk's marketing director Don Barnetson in November last year.
However, SanDisk has been using ABL in its flash products for a year or so already, with it being used in the 3-bit MLC chips announced in February last year. If it's not ABL, then is there secret SSD sauce in these second-generation pSSDs or is that still to come? SanDisk has not been able to clarify this point.
We assume the new flash drives use SanDisk's Extreme Flash File System (Extreme FFS) to boost MLC write speed. The company doesn't say. Nor does it provide read and write speeds. It claims that booting an operating system and launching applications with these new flash SSDs takes half the time needed by a hard drive. It hasn't provided write cycle endurance figures either. Again, it has not been able to answer questions about any of these points.
The big draw here is the netbook market, which hasn't adopted flash drives as its default storage. Instead, netbooks use hard drives because the extra cost of flash isn't justified by sufficient reductions in boot and application load times. However, the netbook market is projected to increase massively in size. IDC says 500,000 netbooks were bought in 2008. It reckons 11 million will be bought this year and 41 million in 2012. If a substantial proportion of these could be switched away from HDD to SSD technology, then SSD suppliers like Toshiba and SanDisk, Intel, and Micron will be very happy. Their goal is simple: get flash reading and writing streaming data in an affordable flash of time.
Increasing MLC density to 3 and then 4-bits will lower the cost/GB of flash, but new technology is needed to start matching HDD read and write speeds for data streaming. SanDisk is hoping that higher density MLC, ExtremeFFS, and ABL concepts will help SSDs reach the cost/performance tipping point and turn netbooks into full scale SSD adoption.
SanDisk says the pricing is aggressive, the 32GB modular SSD being priced at parity with 2.5inch HDDs in OEM quantities. It suggests they can be used for POS terminals, printers, and ATMs as well as netbooks. Product will be available in February, and the chips are being fabricated at Yokkaichi, Japan, with SanDisk and its partner, Toshiba, sharing the output.
SanDisk shares have jumped in price by a third since Friday, from $9.60 to $12.27. There is speculation about a new Startkey technology, a U3 follow-on or replacement, produced with Microsoft collaboration, or a new takeover offer from, say, Samsung. Alternatively, investors may simply see the potential for these pSSD drives in the netbook market. ®
COMMENTS
FFS
Apple have finally come across the concept of backups, and you use them as a *reference*? ... "completely automated backup, like Apple's Time Machine, is even simpler. "
Yeah, and so was NT backup, 10 years ago. The only thing "simple" is that Time Machine backs up all files by default. To not backup the crap you don't want, you have to start configuring. Most backup software is the opposite - you *select* what you want. I wonder if Apple have patented this wonderful technology yet - that the "Select All" option is *pre-selected*. Stunning innovation!
Don't shoot the messenger
Sorry Peter, this from an anonymous source...
"SATA II misnomer
Popular usage may refer to the 3.0 Gbit/s specification as "Serial ATA II" ("SATA II" or "SATA2"), contrary to the wishes of the Serial ATA International Organization (SATA-IO) which defines the standard. SATA II was originally the name of a committee defining updated SATA standards, of which the 3 Gbit/s standard was just one. However since it was among the most prominent features defined by the former SATA II committee, the name SATA II became synonymous with the 3 Gbit/s standard, so the group has since changed names to the Serial ATA International Organization, or SATA-IO, to avoid further confusion."
3Gbit/s SATA 1?
"Each uses a 3Gbit/s SATA 1 interface"
that's SATA 2 speed....