2GB MP3 player head-to-head
Samsung's YP-U4 vs Sony's NWZ-B135F
Both devices come with fairly grim little screens, but the Sony's is by a country mile the grimmest of the two. The colour scheme looks washed out, the text is spindly, it's only three lines tall and at around 18 x 7mm it looks about 4mm too short for the space it occupies.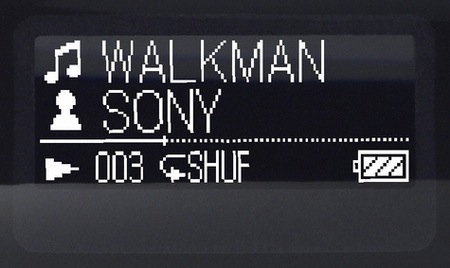 The Sony's display is the poorest of the two
The U4's screen is not only bigger - at 20 x 13mm, but also has a higher resolution – a whopping 128 x 64 - and can display four lines of text. It's easier to read than the Sony, nicer to look at and even displays little album cover images.
The "selling point" with both these players is that you don't need a separate USB cable. The U4 has a retractable USB plug - just push the release slider up and out it pops - while Sony makes do with a fixed plug covered by a cap.
Since said cap doesn't have a lanyard, we suspect it will quickly get lost, and while you won't be able to lose anything off the Samsung, the retractable USB connector isn't the most robust thing we've ever come across. If you suffer a case of unintended extension in your pocket, we suspect things may go snap.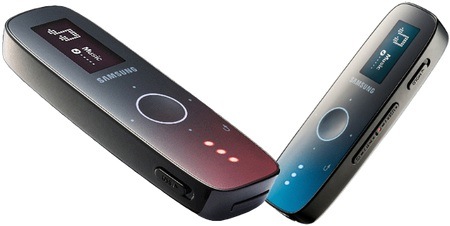 Extra audio format support on the Samsung
Neither device is exactly bulging at the seams with audio codec support. Sony gives you MP3 and WMA, while Samsung adds Ogg to those two formats.
Both players come with FM radios and while neither have RDS, both let you assign up to 30 presets stations. Both players will also let you record radio content off air and come with a built in microphone for speech recording. The Samsung records in MP3 format, the Sony in WAV.
Sponsored: Minds Mastering Machines - Call for papers now open