Nikon D90 digital SLR with HD video recording
A DSLR and an HD camcorder
Likewise, performance is very impressive. Colour, contrast, resolution are excellent under a wide range of conditions. The AF system quickly locks onto a subject and there's also a 3D AF tracking system, which works well, although like all auto systems, it can get caught out on occasions. But what really floored us was the performance at high ISO speeds, and even shots taken at ISO 3200 suffered from relatively little noise.
Battery life is given at up to 850 frames per charge, and we certainly had plenty of power left after taking more than 300 frames and shooting some video.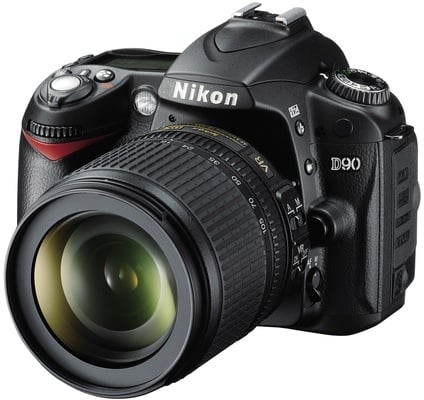 Excellent stills camera, weak camcorder
But while the D90 more than cuts it as a still camera, sadly, this can't be said for its function as an HD camcorder. Make no bones about it: compared with the video clips you get on your average - or even above average - compact camera, the D90 offers very good video performance. But compared with your average camcorder, it doesn't cut the mustard.
To use the video mode, you put the D90 in Live View mode, press the OK button and away you go. Well sort of, because in movie mode, there's no autofocus function, only mono sound, and if you want to make adjustments, such as to colour or exposure, you need to do this before you start shooting – there's no way of making tweaks on the fly.
What's more, our footage suffered from a bad case of wobble-cam. True, we didn't use a tripod but the shaky shots were also due to the fact that the D90 uses a Rolling Shutter in the video mode. This processes each video frame by starting from the top and working downwards, so any camera movement (such as fast panning) can result in a nasty case of the wobbles. And last, but not least, you are restricted to five minutes' continuous recording, a limitation we suspect has more to do with the D90 not being saddled with EU camcorder tariffs than any technical issue.
Verdict
If you're looking for a still camera that also records some HD video, then the D90 is highly recommended. But if you're in the market for a replacement for your camcorder, then this isn't it. We suspect that the next new model will offer a vast improvement on video performance. But if you're not bothered about using video too much, then don't hang about – take a good look at the D90 today, because it's a superb model for the serious photographer. ®
More DSLR Reviews...
| | | | |
| --- | --- | --- | --- |
| Pentax K200D | Olympus E-420 | Nikon D40 | Canon EOS 450D |

Nikon D90 digital SLR with HD video recording
A superb still camera but its video performance won't case camcorder manufacturers to lose any sleep.
Price:
£730 (body plus lens) RRP