Nikon D90 digital SLR with HD video recording
A DSLR and an HD camcorder
On the right hand side is a small cover for an SD/SDHC card, and on the left is a second cover for power, the mini USB port, accessory terminal and a mini HDMI port. The latter, of course, is designed for connecting the D90 to an HD TV. Nikon kindly provides a mini-USB-to-USB cable and even gives you a composite-video cable. But if you're going to use the HDMI port, be sure to purchase a mini-HDMI-to-HDMI cable before leaving the store, because for some unfathomable reason, Nikon leaves this as an optional extra.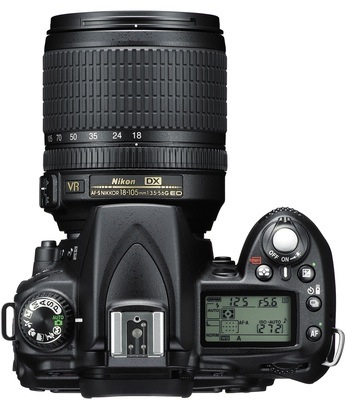 Ready for HD output... when you buy a cable
True, people are going to use the D90 primarily as a stills camera, but if you're making a song and dance about it offering HD video too, Nikon, you ought to make it easy for users to view it. Rant over.
The D90's instruction book is almost 300 pages long, so apologies for a rather brief overview of what you get for your money. But these include a 12.3-megapixel DX format CMOS sensor measuring 23.6 x 15.8mm which, Nikon says, offers low-noise performance up to ISO 3200. Also included are an eleven-point AF system; built-in sensor cleaning; "Active D-Lighting", for improving contrast in certain conditions; live view; face detection; scene detection; several scene modes, including portrait, landscape and sport, plus several video modes including an option for 720p at 24f/s video - the D90 uses Motion JPEG in the AVI file format.
There are also lots of in-camera image processing tools, including RAW processing. These are rather basic - you can tweak image quality, white balance and exposure compensation, and add some picture affects - but they're nice to have. Images can also be copied, re-touched, trimmed, have effects like barrel distortion reduced or appear to have been shot with a fisheye lens. Oh, and there's also an optional wireless remote control.
The D90 can shoot in RAW (NEF format), JPEG or both. Resolution ranges from 4288 x 2948 to 2144 x 1424. A RAW file comes in at around 12MB in size, or roughly double the size of a JPEG shot at the highest quality. Shutter speed ranges from 1/4000-30s, with a bulb option. ISO speed ranges from 200-3200, although in fact, you can go down to 100 or up to 6400 using additional settings, which Nikon calls L and H, respectively. There are two continuous-shooting modes offering a maximum of 4.5f/s in the fastest setting.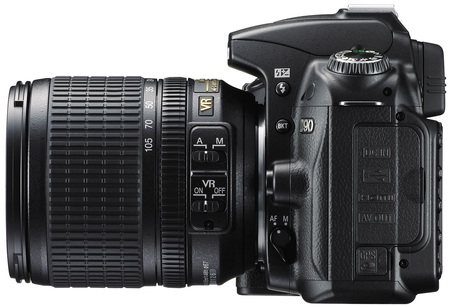 USB connectivity
In terms of handling, the D90 is a joy to use. Switch-on is lightning fast, with the camera ready to shoot in about 0.2s. The LCD control screen and button layout means it's very quick and easy to adjust many parameters, including image quality, ISO, shutter speed, aperture and white balance, without resorting to the menu. The Menu button takes you to a vertical row of menus, such as shooting, playback and movie settings, and after a bit of practice, you can soon find your way around the D90. The viewfinder provides about 96 per cent coverage of the frame, and the Live View function is handy for times when you need to hold the camera at odd angles. The LCD screen is also clear and bright and has a wide viewing angle.
Sponsored: Minds Mastering Machines - Call for papers now open