Clickfree Backup external hard drive
A driver's airbag for your data
We had a couple of machines which needed setting changes before Clickfree would work, but also a couple with which it worked straight out of the box. One of the PCs that wouldn't work was running 64-bit Vista, and there's a patch on the Clickfree site needed to get the drive running on 64-bit systems.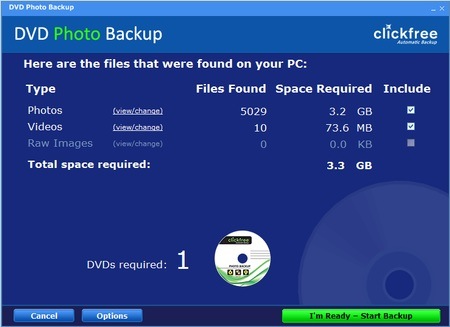 Clickfree locates your files
The Clickfree hard drive is designed to back up as many as ten PCs, and does so using sensible defaults. It backs up over 350 filetypes, listing them in categories with friendlier names, such as Text Documents, Spreadsheets, Photos and Music Videos. You can select the categories of files it copies on any machine, or go into more detail and select or deselect particular filetypes. It's also possible to select specific folders or drives on a given machine.
Clickfree saves files uncompressed and unencrypted, so they're exact replicas of what's on your hard drive. It keeps each back-up set separate from the others and knows which machine it's plugged into, so only appends new files to the appropriate set. After the initial back-up, the back-ups are incremental, not mirrored, so files in a back-up aren't deleted even though the originals have been taken off a PC. There's also no way of manually deleting individual files from a back-up, though you can delete a complete back-up set.
When files are restored, they're put in a folder called Restored Files, rather than in the folders they were saved from. Clickfree claims this is because different versions of Windows save files down different paths, but it shouldn't be beyond the wit of software engineers to get the OS to declare itself and create paths accordingly.
You may, of course, want to place restored files in different locations on a recovered machine, but that presupposes a level of knowledge rather higher than the 'airbag' concept of the product.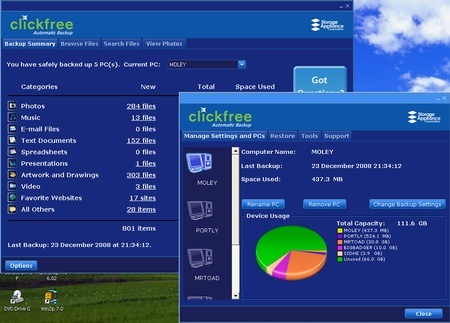 The HDD version supports up to ten PCs
Performance-wise, the data-transfer rate is typical for an 2.5in external USB drive of this type. A back-up of 801 assorted files, including photos and music files, took just under two minutes. Since the program performs an incremental back-up, the time it takes shouldn't be a problem, even if you choose to back up daily or weekly.
Sponsored: Minds Mastering Machines - Call for papers now open