Sony Ericsson Cyber-shot C905 eight-megapixel cameraphone
Sony's best cameraphone yet
We mentioned the C905's GPS pick-up, and Sony Ericsson has included a three-month trial version of Wayfinder Navigator 7 voice-guided satnav software. This uses over-the-air map and info updates. The A-GPS set-up seemed to get our positions rapidly – usually under a minute in our tests, though tested side-by-side with an N96 it didn't appear to be quite as sensitive as the Nokia.
While the Wayfinder app is welcome, it's far from being as slick or refined a system as an in-car satnav, or the best smartphone satnav packages. It's limited, and we found that the GPS receiver wasn't always as responsive as we'd have liked when using it in-car. You'll also find that having the A-GPS on, particularly with onscreen guidance lighting up the display, saps battery life remarkably quickly.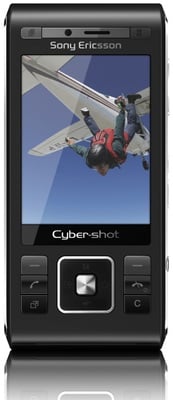 Wi-Fi and HSDPA included
Sony Ericsson's NearMe location-based service is included too, providing information on local entertainment, services and amenities, based on your current location - though we found that its definition of 'Near Me' somewhat curious, with some entertainment listings over 50 miles away.
The full web browser is a zippy way of checking out sites, with Wi-Fi providing a speedy alternative to HSDPA. It's reasonably straightforward to operate and functionally effective. The C905 has plenty of regular apps too. All the usual organiser functionality is accounted for, plus there's a sound recorder and a spread of standard apps including a world clock, an AccuWeather.com weather forecast app, VideoDJ, PhotoDJ, MusicDJ, Bluetooth remote control, and TrackID song identfication. An FM radio function is included, and three games come pre-loaded.
On the fundamentals of voice calling, the C905 was absolutely fine, with consistently good-quality audio performance and reception. Battery life was a concern, though. Sony Ericsson estimates that optimum battery life can run to nine hours' talktime on GSM networks or four hours in 3G coverage, with a standby time of up to 380 hours on GSM networks or 360 hours on 3G. These figures are broadly in line with other recent mid-tier 3Gers, but in our real-life usage tests, we found ourselves charging up every day if we indulged in some of the power-hungry features like Wi-Fi and A-GPS. If kept on constantly, the satnav app can run-down power in a few hours. We'd recommend judicious monitoring of app usage if you don't want to find yourself with low power at inopportune moments.
Verdict
The C905 is certainly the best Cyber-shot handset we've seen for picture quality and overall functionality. It's no waif, and its heayweight build may put off some buyers. There are some handling issues, too, and battery life could be a problem if you want to make heavy of the on-board gadgetry. But the presence of Wi-Fi and A-GPS, combined with a fine camera, make the C905 a very attractive cameraphone. ®
More 8Mp Cameraphone Reviews...
| | | |
| --- | --- | --- |
| Samsung Pixon | LG Renoir | Samsung i8510 |
Sponsored: Minds Mastering Machines - Call for papers now open

Sony Ericsson Cyber-shot C905 eight-megapixel cameraphone
Sony Ericsson's Cyber-shot range gets a heavyweight boost with this flagship 8Mp sharp-shooter.
Price:
Contract: Free to £295. Pre-pay: N/A. Handset only: £410 RRP