Cowon iAudio S9 PMP
Step forward, first real iPod Touch beater
Something we do really applaud Cowon for is the ability to access the JetEffect settings directly from the Now Playing screen and to change settings without any interruption to the music whatsoever.
A quick romp through Cosi Fan Tutte was equally enjoyable, though as ever we were left wondering why Apple alone seem to understand the value of gapless playback.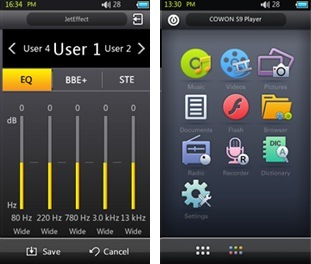 The UI's smooth - if a little Touch-like
File support has always been a Cowon strong suit and when we first saw the S9's specs on Cowon's Korean website we were suitably impressed, the only obvious thing missing being AAC audio. What you get out of the box is MP3, Flac, Ogg, WAV and APE audio, AVI – Xvid, DivX – and WMV video along with JPEG and TXT. Not bad, but H.264 would be handy. Fingers crossed these will turn up in a firmware update. Of course, the iPod Touch is hardly bulging at the seams with supported codecs.
The S9 comes equipped with A2DP stereo Bluetooth tech, a voice recorder, a Flash player and the ability to record FM radio off air. The voice recorder encodes files in WMA format. Get hold of the relevant USB cables and the S9 will also record line-in audio and pump out content to your TV – PAL or NTSC.
Cowon's claims for the S9's battery life are nothing if not ambitious - 11 hours of video and 55 of audio – but proved remarkably accurate. We got just under ten hours on the video front and stopped worrying about the audio when we got to 45 hours. You recharge the battery using the USB cable.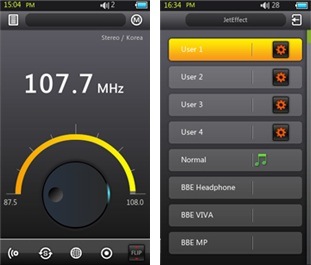 Neat UI elements include the rotating FM tuner dial
The S9 can be set to act as either an MSC or MTP device and as the former it showed up without fault on both a MacBook Pro and Linux-runing Acer Aspire One.