Cowon iAudio S9 PMP
Step forward, first real iPod Touch beater
Not the beat about the bush, the colour density, crispness and definition of the S9's screen are all simply outstanding. The opening scenes of Star Wars: Episode III - encoded as a 680 x 272 AVI DivX file - have never looked as clear and colourful on anything this side of a Cowon A3 or Archos 5. The almost exaggerated sense of clarity you get from the S9's screen has to be seen to be fully appreciated.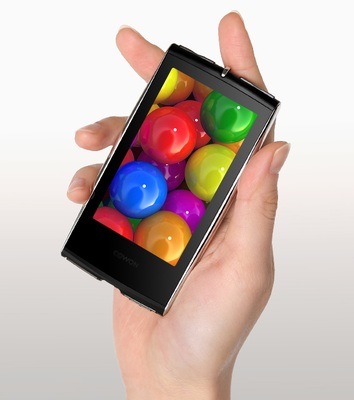 The screen's a very bright OLED panel
The Cowon S9's screen genuinely advances the science of PMP screens - by some margin. Notwithstanding the slightly smaller size and lower resolution than the Touch, we would rate the S9's as the superior screen of the two.
Cowon claims a Korean-specification S9 will play back any video with a resolution of 1280 x 720 at 30f/s or less. We tried it with ours and could it heck as like. A 720p WMV9 trailer for Ice Age 3 was wholly un-watchable, being just a mess of pixelated blocks.
The highest resolution files our S9 managed to play were a 720 x 480 WMV file of Enron: The Smartest Guys in the Room. This would suggest that the S9 will cope with most of the video content likely to be thrown at it without too much messing about with re-formatting.
Audio playback is also right on the money, even when using the bundled earphones, which if not exactly in the Sony league are still a step up from what Apple or Samsung give you. We have to put the Cowon right up with the best of the breed in terms of sound quality. It's not quite on a par with the Sony Walkman S, but there's nothing to chose between the S9 and the iPod Touch.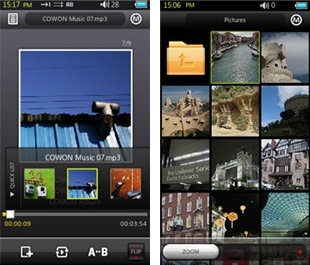 The screen's great for stills and video
Cowon's take on sound modification technology goes by the name of JetEffect 2.0 and lets you chose any one of 17 EQ pre-sets or set up four of your own. You also get eight sound modifiers licensed from California-based sound gurus BBE which perform the usual 3D expansion, stereo separation and bass-boost functions.