Supermicro does micro server for SOHOs
Because you can't have too many servers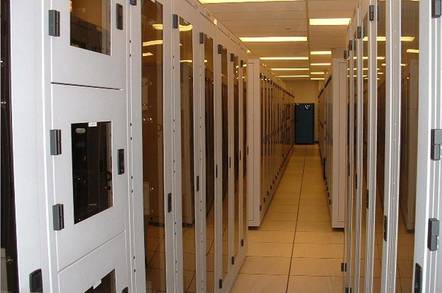 Motherboard and server maker Supermicro is not a tier-one corporate-server supplier itself, but it does sell a lot of motherboards to tier-two players. Now wants to get a piece of the small-office/home-office (SOHO) market with a new single-socket mini-tower server.
Super Micro Computer, which also calls itself Supermicro just to confuse the Capitalization and Spacing Police, says its new SuperServer 5035L-iB is "truly optimized" for small offices and home offices.
The 5035L-iB may look like any other tower box, but it's different from most commercial servers in that it assumes you only need one processor socket and you want a small, quiet, energy-efficient machine to tuck away into the corner of a room.
The mini-tower is based on Supermicro's own single-socket X7SLM-L motherboard, which can accept Pentium 4, Celeron D, Pentium D, or Core 2 Duo processors from Intel. It has two slots for up to 2GB of DDR2 main memory - just enough to be useful in a modern server.
The 5035L-iB has two Gigabit Ethernet ports, two PCI-Express slots and two PCI slots, and four internal SATA drive bays with a hardware controller that supports RAID 0, 1, 5, and 10. A quiet 300-watt power supply is rated at 80 per cent efficiency - better than a lot of PCs, but not top-of-the-line in the server market. While Supermicro does say that the 5035L-iB is cost-effective, it hasn't yet announced pricing.
This SOHO machine, by the way, is not to be confused with the company's recently launched SuperWorkstation 5036-TB mid-tower, which is based on Intel's new Nehalem (aka Core i7) processor.
The 5036-TB, which looks exactly like a deskside server (because there's really no practical difference) is also a single-socket box, but it's based on Supermicro's X8SAX motherboard and Intel's X58 Express chipset, and supports quad-core Nehalem processors. It's also nearly identical to the Core i7 server launched today by whitebox server-maker Visionman Computers.
The X8SAX board inside the Supermicro workstation and the Visionman server has six DDR3 memory slots spread across three memory channels, and can support DDR3 DIMMs ranging from 256MB to 4GB, for a maximum of 24GB - a far cry from the SuperServer 5035L-iB's mere 2GB of DDR2.
In addition, the X8SAX board has ports for six SATA disks, plus two on-board Gigabit Ethernet ports. It also has one PCI slot, two PCI-X slots, and three PCI-Express slots, and also includes a RAID 0, 1, 5, 10 controller.
Supermicro hasn't released pricing info for the SuperWorkstation 5036-TB, but Visionman is selling its comparable server for $1,800 when equipped with a 2.66GHz processor, 3GB of memory, and four 250GB drives. ®
Sponsored: Minds Mastering Machines - Call for papers now open