LG Cookie budget touchscreen phone
Crumbs! It's a low-cost iPhone alternative
Some application sub-menus are set up as conventional lists of options, while others utilise the touchscreen interface with simple to follow on-screen graphics. The built-in accelerometer automatically flips the screen between portrait and landscape modes in some functions to match how you're viewing. In the image gallery, you can flip between pics with your finger. It's a straightforward, intuitive navigation system that's easy to get familiar with, and mostly pleasant on the eye.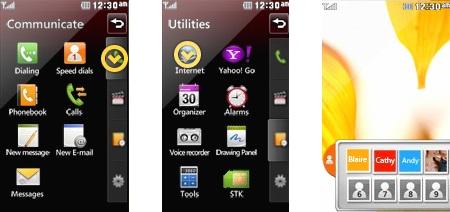 The UI's based on Flash
The touch action, though, is not as smoothly fluid as the iPhone's standard-setting multi-touch screen, and you can swipe through only a few entries at a time. But it does react quite promptly to what your fingers are doing, and there's generally sufficient screen room for pressing without too many slips. That said, when pressing options, the transitions to the next screen can sometimes seem a touch languid.
One area which isn't so good is text input. In text-tapping functions, the Cookie displays a numberpad screen in portrait mode, which automatically transforms into a Qwerty keyboard when the phone's rotated sideways.
We had problems with both methods. The numberpad's keys are bunched close together and relatively small for the screen size, which is fine if you're a small-fingered, tidy texter. But with the Clear and various option keys ranged down the right of the screen, stray fingers can brush you into the wrong mode or input option, which can be frustrating if you're trying to text quickly.
We found the Qwerty keyboard's keys too small and unforgiving for flawless typing, and we frequently had to correct mistakes. It takes a bit of familiarisation to make sure you select the correct buttons and don't stray to the adjacent keys – though you could always reach for the stylus.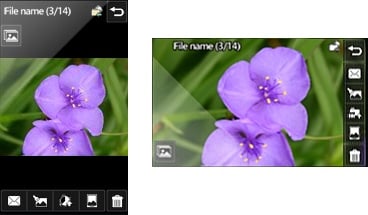 Flip the screen to trip the obligatory accelerometer
Another option is to slip the phone into handwriting recognition mode for inputting text. This works pretty well with the stylus, but you will need practice to get perfect, and we'd tend to stick to the other options.
Sponsored: Minds Mastering Machines - Call for papers now open