MSI mobo ditches Bios for EFI
Inside the future of PC set-up technology
In fairness to the motherboard manufacturers and Bios developers, they have proved remarkably adept at evolving the technology, but there's no getting away from the fact that we are forced to navigate complex settings using nothing more than the Tab, Enter, Escape and the arrow keys.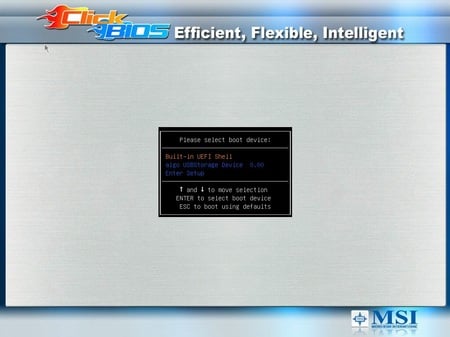 Select your boot device
Microsoft attempted to paper over some of the cracks when it tried to hide the fact that DOS underpins Windows XP. The problem was that motherboard manufacturers continued to use DOS to run Bios updates in a clean environment before Windows loaded. This meant that we were treated to the sight of bootable floppy disks and command lines for the first few years of the 21st Century.
Intel was the first motherboard manufacturer to deliver Bios updates as executable files that run in Windows, and since then Asus, Gigabyte and MSI have released software that makes life easier when you are performing a Bios update. These days you can update the Bios from within Windows, or you can use a built in updater that's part of the Bios to update the file from a USB key, without ever clapping eyes on a DOS command line.
It's a similar story with overclocking software that works within Windows to avoid the need to dabble in the Bios. Most motherboard manufacturers include software that allows you to move sliders to adjust your chipset and processor voltages and clock speeds in much the same way that you can overclock your graphics card using the Catalyst or Forceware drivers. These utilities generally look slick, with AMD's OverDrive utility the pick of the bunch.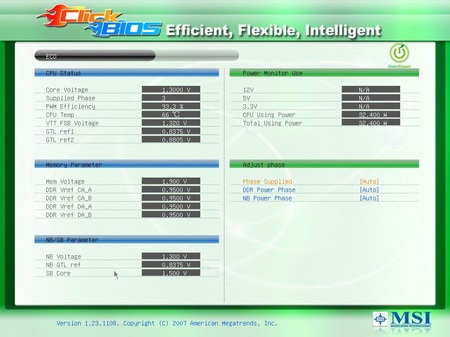 Change power settings
Intel has been somewhat slack in this department as it has released a series of point releases of its Desktop Control Center software for a limited selection of its enthusiast motherboards that suggest it's now playing catch up.
Sponsored: Minds Mastering Machines - Call for papers now open