Lenovo preps dual-display Frankenlaptop
3,353,088 pixels, at your service
Word has leaked out that Lenovo plans to release the world's first dual-display laptop at next month's Consumer Electronics Show (CES).
Not since Ray Milland had his head grafted onto Rosey Greer's body in 1972's The Thing with Two Heads has a more unlikely two-headed beast been seen in the wild.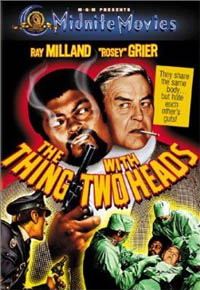 And "beast" is not an inappropriate descriptor. At 16-by-12-by-2.1 inches and 11 pounds, the Lenovo W700ds is a hulking heavyweight - but there's a lot of hardware packed into that prodigious poundage.
First and most obvious are the two LCD displays gracing the W700ds. The main display - placed where you'd expect it to be - is a 17-inch, 1920-by-1200, Widescreen Ultra eXtended Graphics Array (WUXGA) display. So far, normal - if impressively large.
Sliding out from the right side of the main display, however, is a vertically oriented 10.6-inch second display, with a 1366-by-768 Widescreen eXtended Graphics Array (WXGA) resolution. We'll do the math for you: between the two displays there's a total of 3,353,088 pixels.
The W700ds doubles up on these double displays with twin bays for hard drives or Solid-State Drives (SSDs), as well as two built-in input devices: a standard trackpad and a Wacom digitizer built into the right side of the palm rest.
Although Lenovo has yet to list all of the options for the W700ds on its website, one report claimed that it will be available with a quad-core Intel Core 2 processor - possibly the QX9300 - and Nvidia Quadro graphics - possibly the FX 3700M. We add "possibly" because Lenovo hasn't responded to our requests for clarification. Their media-relations staff appears to have begun their holiday breaks a bit early. Possibly.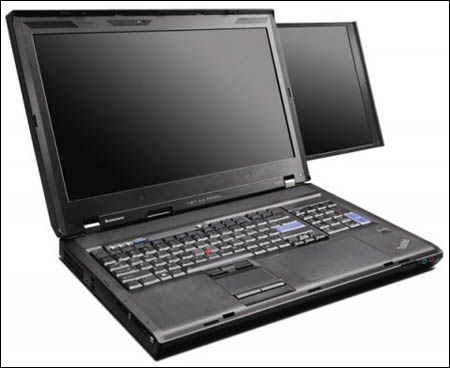 One display for your work, a second for all those Photoshop palettes
Although pricing for the W700ds has not been officially announced, various web reports place it somewhere between $3,000 and $3,600 - although we'll have to wait until CES to find out what accoutrements come at what price points. One assumes that, pound for pound, it won't be cheap.
While a two-display laptop might be overkill for most users, picture a videographer in the field or a digital photographer on remote assignment, and you can understand the allure of all that extra pixelage. Besides, any content-creating professional who can afford this beast will also be able to afford an assistant to lug it around. ®
Sponsored: Minds Mastering Machines - Call for papers now open