Visionman launches Nehalem Core i7 servers
Why wait for the Nehalem Xeons?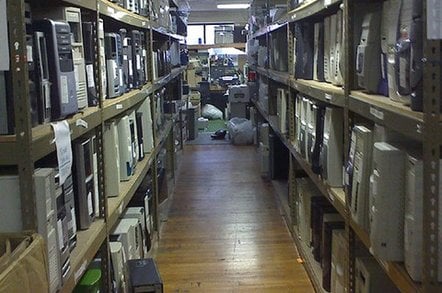 The single-socket server space has been a niche part of the server space, just as machines with more than four sockets has never been a particularly high volume part of the market.
The advent of multicore processors and faster system and memory buses have made single-socket servers more appealing to a certain class of customers.
A whitebox server maker called Visionman Computers now hopes it can carve out a new niche for itself, selling single-socket servers based on the desktop variant of Intel's family of processors codenamed Nehalem.
The "real" server variants of the Nehalem family of chips, which are expected to be branded with the Xeon moniker and designed for two-socket servers, are due at the end of the first quarter and expected to span from four- to eight-processor cores.
The desktop Nehalem chips, called the Core i7, came to market a month ago, sporting the QuickPath Interconnect homage to AMD's HyperTransport interconnect for Opterons and a new processor microarchitecture. The Nehalem chips have on-chip DDR3 main memory controllers as well as a rev of HyperThreading simultaneous multithreading - which puts two virtualized threads in each processor core. There are three Core i7 processors, all of which have the 920 at 2.66GHz, the 940 at 2.93GHz, and the 965 Extreme at 3.2GHz, which cost $284, $562, and $999 in 1,000-unit quantities, respectively.
Visionman doesn't want to wait for the Nehalem Xeon launch in late March to get customers the benefit of the Nehalem architecture. So today the company launched the Ascerva ViXone7 family of servers, based on the Core i7 chips, with the first box in the family being a tower box based on the 920 processor.
The Ascerva ViXone7 is based on SuperMicro's X8SAX single-socket motherboard, which itself uses Intel's X58/ICH10R chipset, code-named Tylersburg. The X8SAX board has six DDR3 memory slots spread across three memory channels, and can support DDR3 DIMMs ranging from 256MB to 4GB in capacity, for a maximum of 24GB.
The board has ports for six SATA disks and two on-board Gigabit Ethernet ports; it also has one PCI slot, two PCI-X slots, and three PCI-Express slots for peripherals. The motherboard includes a RAID 1/5/10 disk controller as well.
The ViXone7 server has four hot-swap SATA drive bays accessible through the front of the chassis, and Visionman is configuring the box with four Western Digital 250GB SATA-II drives, which spin at 7200 RPM. The server also comes with 3GB of 1.3GHz DDR3 memory, a floppy drive, a DVD drive, an nVidias 8400GS video card, and a 450 watt power supply, all for a staggering $1,800.
If you buy now, Visionman can ship it within three to five business days, and will throw in a DVD with 100 games on it. You can check out the machine here.
Visionman has been around since 1994 and sells servers, notebooks, and gaming systems for small business and home users. The company is a subsidiary of Silicon Mountain Holdings, which also owns a distributor of various kinds of memory products - DRAM, SRAM, flash, and so forth - called Silicon Mountain Memory.
The holding company also owns WidowPC, which is not something you buy your mum after your dad kicks off, but instead refers to a black widow and is meant to convey deadly performance in gaming-class notebooks and desktops. ®
Sponsored: Minds Mastering Machines - Call for papers now open