Middle Earth says hi to Sony's new Vaio
Kiwis peck away at teaser website
From the far side of the world Sony New Zealand is telling us that a new Vaio is coming.
It is a countdown webpage saying that on January 9 a new Vaio will be announced that will change the way we look at notebooks, forever. Coincidentally a day earlier, at the opening of the Consumer Electronics Show in Las Vegas, Sony chairman and CEO Sir Howard Stringer is giving a keynote address there.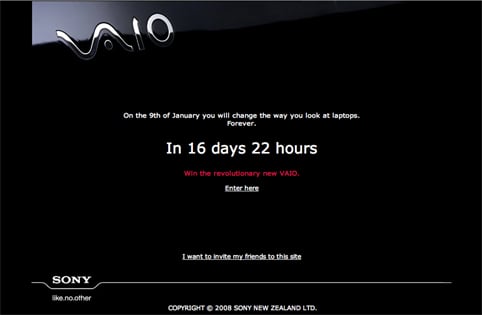 There are no product details on the site but you can register to receive them once they're available and enter a contest to win one.
Gadget websites have uncovered a US FCC filing by Sony that refers to two new Vaio-branded devices (photo here) referred to as the PCG-1P1L and PCG-1P2L. PCG is apparently a Sony reference to Vaio-branded devices.
This new Vaio is about 9.5in wide and 4.5in deep, making it smaller than the average notebook, and apparently a clamshell design if what look like hinges in the photo are really hinges. It runs Windows and the FCC filings refer to Bluetooth, 802.11b/g/n WiFi, EVDO and HSPA.
Perhaps this is the new Vaio referred to by the Sony website - if so, for it to truly change our ideas about notebooks, it needs to be something pretty special. Maybe it will have an iPhone-like touchscreen? ®
Sponsored: Minds Mastering Machines - Call for papers now open