Prof's robotic pole-snake goes big in Korea
'Oscillating joint motion' wows the crowds
Engineering profs based in Virginia have scooped a Korean tech prize by designing a robotic pole-climbing snake.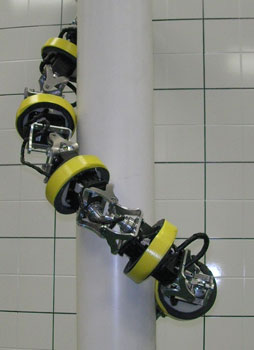 'Unique even in nature'
The snake, known as HyDRAS-Ascent (Hyper-redundant Discrete Robotic Articulated Serpentine) is intended to climb up scaffolding, pillars or whatnot and carry out inspections which would otherwise have to be undertaken by people. It works by wrapping itself around a pole in the fashion popular among scantily-clad female entertainment operatives catering to the sweaty-palmed business executive, and propels itself upward using "oscillating joint motion".
Apparently the oscillating pole-snake went down a storm in Korea, scoring the top 1 million won (£500) prize at the 2008 International Symposium on Educational Excellence.
The snaky robot is about 3 feet long, according to Dennis Hong of Virginia Tech's Robotics and Mechanisms Lab, which developed it.
"Unlike inchworm type gaits often being developed for serpentine robot locomotion, this novel climbing gait requires the serpentine robot to wrap around the structure in a helical shape, and twist its whole body to climb or descend by rolling up or down the structure," said Hong.
Virginia Tech described the mechanism as "unique even in nature", puzzlingly.
"This family of novel robots will serve as a practical inspection tool for construction sites without putting workers in harm's way," added Hong. ®
Sponsored: Minds Mastering Machines - Call for papers now open