Apple MacBook Air Late 2008
Still sexy, but rather faster now
There are a few other changes in this model as well, the main one being Apple's decision to ditch the mini DVI interface for connecting the computer to external monitors, and to replace it with the newer DisplayPort interface. Apple has already launched a new 24in LED-backlit monitor that uses DisplayPort and is specifically designed as a companion for the MacBook range, so this is clearly flavour of the month at Apple right now.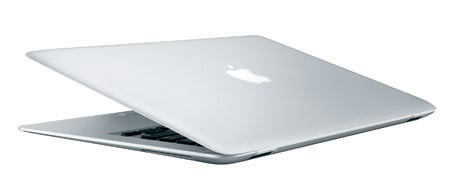 Desirable
Unfortunately, the DVI and VGA adaptors that used to be included with the MacBook Air are no longer to be found in the box. This means that if you want to connect the MacBook Air to an existing monitor you'll need to buy a suitable adaptor for around £20 a shot. It just seems a bit tight-fisted of Apple to cut corners like this on what is already a pretty expensive machine. By the time you've paid £20 for a video adaptor, £64 for the external DVD drive and £19 for the USB-to-Ethernet adaptor, you've spent another £100 for some fairly basic features that are standard on other, equally slim and light laptops.
Apple has updated the trackpad too, so that it works with a wider range of 'multi-touch' gestures, such as the 'four-finger swipe' for switching between open applications. It's odd, though, that having a separate click-button just beneath the trackpad now looks rather old-fashioned and clunky compared to the buttonless trackpads that Apple uses on the rest of the MacBook range.
Verdict
We still have reservations about the MacBook Air. The improved graphics performance does make it feel a lot smoother and more responsive than before. However, it's still very expensive, and design decisions such as the non-replaceable battery just seem extremely short-sighted.

Still very thin
Yet, for all its limitations, the sheer quality of the design shines through. It's not just the look of the machine that matters – the feel of it is important too. Being able to balance the laptop lightly in the palm of one hand, or to simply snap the lid shut and pick it up the way you would with an ordinary A4 notepad really does make it enormously convenient and comfortable to use - and we did not, as one of our esteemed colleagues suggests, feel like a tit while doing so.
We'll concede that the recently updated MacBook represents much better value for money, and it's hard to imagine that the MacBook Air will sell well in these credit-crunch days. And yet – we still want one. That's how good the design is. ®
More Apple Laptop Reviews...
| | | |
| --- | --- | --- |
| MacBook Pro Late 2008 | MacBook Late 2008 | MacBook Air Early 2008 |
Sponsored: Minds Mastering Machines - Call for papers now open

Apple MacBook Air Late 2008
The improved performance is very welcome, but the price remains a sticking point.
Price:
£1761 (1.86GHz CPU, 128GB SSD) RRP