Apple MacBook Air Late 2008
Still sexy, but rather faster now
We'd estimate that performance for routine tasks such as running Microsoft Office apps is 10-20 per cent higher on this model. Battery life for this sort of task seems unchanged – a little under four hours when typing away in Word, although you can stretch this quite a bit longer if you turn the screen brightness down low.
XBench 1.3 Results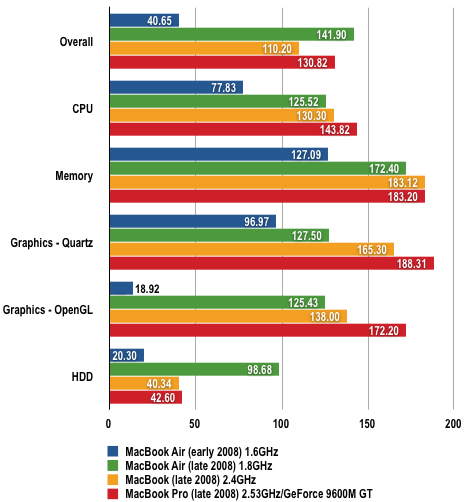 Longer bars are better
You can see from the XBench results that - even allowing for the fact we tested a 1.6GHz early Air and a 1.8GHz new one - the machine's had a big performance boost. We wouldn't take the Overall rating too seriously - it's way beyond faster machines thanks to the very high HDD score, a result of the test machine's SSD. Our real-world experience of SSDs tells is they're not that much quicker than HDDs.
But you can see the improvement in Memory, thanks to the higher frontside bus speed and the use of DDR 3 technology.
However, the most welcome improvement is the Nvidia GPU, replacing the feeble Intel GMA X3100 in the original Air. Apple says that the GeForce 9400M provides four times the graphics performance of the X3100, and we certainly noticed that video playback and tasks such as scrolling through album artwork in iTunes were much smoother. An H.264 standard-definition download of Iron Man from the iTunes Store looked rather splendid running in full-screen mode on the Air's glossy display.
However, it's games that show the greatest improvement. The 1.86GHz model managed a respectable 36 frames per second when running Doom 3, whereas the previous model could barely run the game at all. Of course, no one buys a Mac only to play games, but the Mac OS and programs like iTunes involve a lot of graphical trickery, so the improved graphics performance helps make the machine feel much more responsive in day-to-day use.
Sponsored: Minds Mastering Machines - Call for papers now open