LG DVS450H 'floating' DVD player
Cool looks, cool playback
For £130 this machine actually has quite a lot of functionality. Progressive Scan, DivX HD playback, DVD upscaling to 1080P, CD-R/RW support, and a USB input into which you can hook digital cameras and MP3 players for MP3, WMA and JPEG playback are all included.
This machine really delivers when it come to DVD usage. The unit isn't the quietest ever. When you're jumping around the sections of a disc, there's a definite whirring noise, but the machine makes up for this by being very quiet in playback.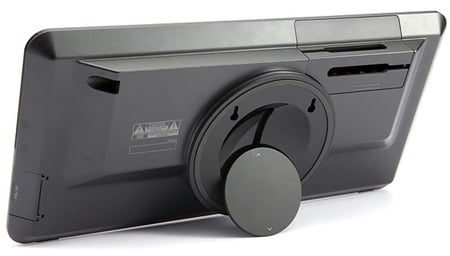 There's a built-in stand if you don't want to hang it on your wall
We decided to really give the unit something to get its teeth into by loading up Iron Man with its fast-paced action and sumptuous production values. Spinning up a disc in the first place is quick, and jumping from one scene to another is more or less instantaneous, as is calling up the main disc menu. The machine's processor can select the best format to suit the screen you are using, from 576i - regular interlaced DVD definition - all the way up to 1080p full HD.
All-round picture quality is good, driven along by the machine's Progressive Scan technology, delivering natural looking colour and flesh tones. The unit handled the Iron Man action scenes accurately with really smooth image transition and the right amount of depth for the slower paced narrative and character scenes. Gwyneth Paltrow hasn't looked this good in years.
Picture freeze and fast-forwarding within a scene are both of good quality, with fast response times and little loss in terms of image quality. There are other features, like choosing camera angles and expanding a selected area of the playback by up to 400 per cent, but these are mild amusements only and don't really add too much to the proceedings.
Sponsored: Minds Mastering Machines - Call for papers now open