LG DVS450H 'floating' DVD player
Cool looks, cool playback
Review At first glance, you might be forgiven for thinking that the heavily polished DVS450H is a victory of style over substance. But not a bit of it. This player has looks and brains, and has enough surprises up its sleeve to genuinely impress.

LG's DVS450H: 'It's a floater alright...'
OK, let's get one thing straight from the start. This DVD player doesn't actually float. Put it in the bath or the local duck pond and it will plunge to the bottom the same as any other piece of consumer electronics. The 'floating' claim refers to the fact that the unit's design means the player can be mounted on the wall with the supplied bracket, which actually comes in pretty handy if you are into the whole hanging your TV on the wall thing.
Even if you're not, it provides a way to get the unit up and out of the way. The other placing option is to use the fold-out circular foot built into the base of the unit. Our only (slight) gripe here is that the unit is 430mm high and might be too high to fit easily on the shelf of some AV furniture.
LG has gone to great lengths with the appearance and form-factor of this unit and on the whole it has got it right. The now familiar LG black with pearl colored buttons combines with the unusual upright style well, which is different enough to provide and intriguing alternative without being too outlandish to not be user friendly. In fact, a few years back, LG had a wall-mountable projector that used the same basic design as this DVD player.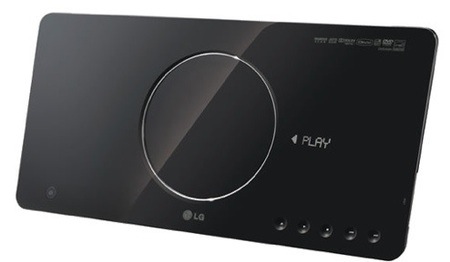 Designed for wall hanging
One slight snag with a vertical deck is that it can be a little difficult to get the hang of putting a DVD into the player without getting your fingers all over the surface of the disc or even dropping it.
Sponsored: Minds Mastering Machines - Call for papers now open