Western Digital WD TV HDD-to-HDTV adaptor
Connect your telly to your USB HDD
Unfortunately, there is one big hurdle that the WD TV can't entirely overcome – a hurdle of Apple's making. The WD TV works perfectly well with hard disks formatted using Windows' NTFS and FAT/FAT32 disk formats. It also works fine with the Mac's HFS Extended format. However, there's a variation of this format called 'HFS Extended Journaled', which is used by many Mac hard disks, including WD's own Passport portable drives. When you plug a 'journaled' hard disk into the WD TV you get a message saying that the Media Library doesn't work properly with this type of disk.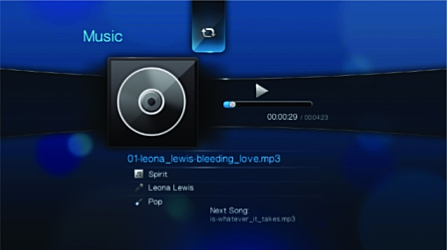 Play your songs...
Now, when we plugged one HFS Extended Journaled hard disk into the WD TV it worked properly and organized our files correctly in the on-screen menu. However, things got a bit messy when we plugged in a second journaled device: some of the files didn't appear in the correct places in the Media Library menu.
There's a work-round here, as the Media Library can simply list the contents of each disk separately, but Mac users that want to use a hard disk with the WD TV on a regular basis will be better off reformatting the disk in the HFS Extended format or FAT 32 - which is easily done using the Disk Utility program pre-installed on all Macs.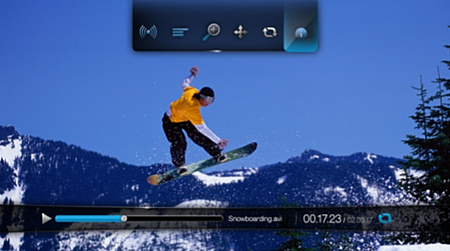 ...and view your videos
However, the real show-stopper comes when using an iPod with the WD TV. Apple's FairPlay DRM system prevents the WD TV from playing copy-protected files purchased from the iTunes Store. It can play unprotected files, but the file system that Apple uses on the iPod - either a Windows-formatted one, or one used with a Mac - means that the WD TV can't display the file names correctly. You end up with unintelligible names like 'XyZabc.mp3' that make it virtually impossible to locate the files you need.
Verdict
The iPod issue is disappointing, but the WD TV is still an excellent option for anyone that has a collection of music, ripped DVDs or video downloads stored on a USB hard disk that they want to play on their TV. Its 1080p output provides very good image quality on HD TV sets, and its menu system is nice and easy to use. And, best of all, the fact that it works with any existing USB hard disk means that it comes in at well under £100, while still leaving you the option of buying larger, inexpensive hard disks in the future.
Sponsored: Minds Mastering Machines - Call for papers now open

Western Digital WD TV HDD-to-HDTV adaptor
An affordable, easy-to-use device that allows you to connect a USB hard disk to your TV.