Sony Rolly dancing MP3 player
Rollin', dancin' music thang
Review The silence at the end of the phone was unusually ominous. "We've got something for you," said the voice from Vulture Central. "Great - what is it?" Silence, then: "Just open the box when it arrives..."
Twenty-four hours later and a small black 300g rugby ball shaped dancing MP3 player is sitting on our desk: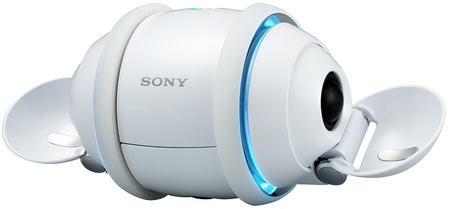 Sony's Rolly: dancing thing
From a design perspective, Sony's Rolly is actually a rather cunningly constructed little box of tricks. The speakers sit at each end of the device covered by 'ear' flaps that can open at up to 90°. These flaps are in turn mounted on end caps that can rotate through 360°.
Inboard of the end caps are rubber rims that rotate in either direction giving the Rolly the ability to move forward or backward or spin on its axis. LEDs run the diameter of the device at the junction of the end caps and the rims while another set of LEDs surround the function button.
All those flaps, hinges, rims and lights allow the Rolly to execute an impressive array of moves and pyrotechnics - 700 individual lighting effects, according to Sony - while keeping everything remarkably compact.
The design does, however, have one major flaw. Every time the ear flaps close during a dance move, the sounds falls into the toilet because they cover the speakers. This is shame because with the flaps open the Rolly produces a very nice sound for something its size, with solid bass, focused treble and no distortion whatsoever, even at higher volume levels.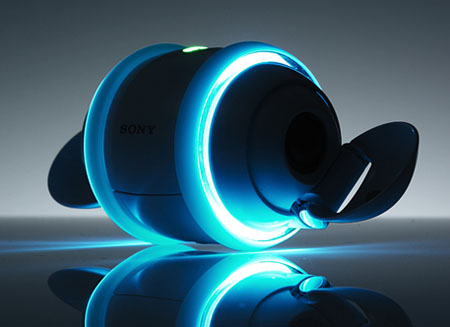 Lightshow included
The Rolly's exterior controls are limited to an on/off/Bluetooth slider and a well-concealed mini USB port. Changing albums and tracks is achieved by rolling the device forward or back. Spinning the unit on its axis, either clockwise or anti-clockwise, adjusts the volume.
Sponsored: Minds Mastering Machines - Call for papers now open