Toaster used to recharge gadgets
Butter and jam optional
Most kids are taught not to stick things - aside from bread - into the toaster. But the Toasty Charger's designer obviously wasn't, because he's crafted one with a slot for inserting reachable batteries.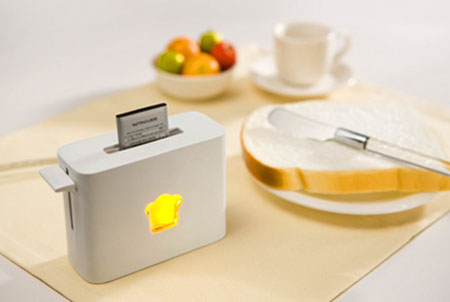 The Toasty Charger: recharge your batteries
The concept toaster is designed for lithium-ion batteries of various sizes. The user simply pops their battery into the slot where the bread would normally go, pull the handle down and wait until the battery pops out, toasted fully recharged.
Details on technical specifications are very limited, but designer Hyun-A Ko said that the toaster has "many terminal pieces" inside so that "different kinds of connectors and batteries" aren't required.

The three stages of toasting charging
Toasty Charger's real appeal is in its design, which has obviously been borrowed from Apple. The all-white gadget has a chef's hat on the front that glows according to the battery charge status.
If it's not glowing then your battery isn't charged yet, but if the hat's glowing brightly then it's time to reach for the Marmite take it out.
No plans to launch the Toasty Charger have been announced.
Sponsored: Minds Mastering Machines - Call for papers now open