To beat Google, Microsoft will become Google
Data-center armlock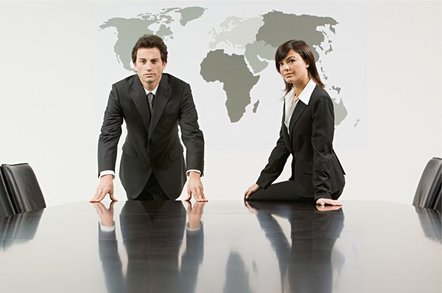 Hidden in Microsoft's announcement of a fourth-generation data-center architecture is a hint of where the company is - and where it wants to go - in the battle against Google.
Also revealed was how far Microsoft is willing to become like Google in that fight.
The Generation 4 Modular Data Center is important to Microsoft - it said - because it provides the framework for the company's cloud data center infrastructure for the next five years.
It'll be a departure from Microsoft's older data centers and was described as "one of the most revolutionary changes to happen to data centers in the last 30 years".
Microsoft wants to get away from the current approach of designing and building data centers on a case-by-case basis with the cost and delays that produces. Gen 4 (the shortened name) will use a componentized manufacturing approach the company said, drawing on the IT industry's favored metaphor of utility and commodity - this time encapsulated by noted industrialist Henry Ford's Model T factory.
"We intend to have our components built in factories and then assemble them in one location (the data center site) very quickly," general manager for Microsoft's global foundation services Michael Manos blogged.
It's classic modern, modular thinking: As the service expands, Microsoft orders more systems that it slots into a grid to expand the power, scale, performance, and reliability of its date centers and the services using them.
Microsoft wrapped Gen 4 in some pretty green paper about the environment, saying the company can cut the amount of water used to cool servers in massive data centers.
Worthy though this was, this is not the at the heart of what's really going on here. Microsoft is working on a data center architecture that can be scaled out block by block as its number of online services and customers increases.
It's the classic scale out model, albeit more affordable as Microsoft will be using the utility and commodity play, while cutting its overheads - particularly on water-based cooling and in power consumption.
According to Manos, it was Microsoft newboy chief software architect Ray Ozzie who inadvertently initiated Gen 4 with his memo on Microsoft's software plus services. "That 'plus Services' tag had some significant (and unstated) challenges inherent to it," Manos said.
Microsoft has been running large-scale internet services for more than a decade, since the advent of MSN and Hotmail. Software plus services, though, meant Microsoft had to be able to become flexible enough at providing services across the internet and the enterprise, each of which have their own sets of demands.
Manos claimed Microsoft today has more than 240 online products and services. The goal is to grow, providing more Microsoft services and - with Azure Services Platform - the platform to run other peoples' services.
There is a contradiction at the heart of Gen 4, though. It's a contradiction that shows Microsoft is willing to become like Google in order to beat its ads and search nemesis. The company cannot use plain, old off-the-shelf server parts and server management software to run such an operation, never mind the kind of on-demand and flexible power-up and power-down service Manos has outlined.
Instead, Microsoft will do what Google does: order specially made parts for its servers. Google orders custom-build motherboards for its servers, bypassing the server OEM companies so that the search giant can build its own machines.
The indication is Microsoft knows this and will be drawing up the specs. It's just a question of who does the assembly - Microsoft, OEMs, or systems integrators.
"Think about how a computer, car or plane is built today," Manos said. "Components are manufactured by different companies all over the world to a predefined spec and then integrated in one location based on demands and feature requirements.
"And just like Henry Ford's assembly line drove the cost of building and the time-to-market down dramatically for the automobile industry, we expect Gen 4 to do the same for data centers. Everything will be pre-manufactured and assembled on the pad."
Here ends the Model-T dream.
There will be more to G4 than Manos has written. For example, we don't know what the specs will be or who the markers will be: just that there will be specs.
Importantly, we don't know what software will be used to run this modular, lights-out set up. Microsoft Watch's Mary Jo Foley has pointed to the existence of a "state-of-the art" networking project codenamed Trebuchet. Neither do we know what the management interface will look like.
Manos said it took a year to design Gen 4, drawn up from experience in Microsoft's data centers in Washington, Texas, and Illinois. The question becomes when does Microsoft feel it can start drawing on Google's experience, by flexing its muscle in relationships with server OEMs? ®
Sponsored: Minds Mastering Machines - Call for papers now open