Roberts RDK-2 kitchen radio
A 'kitchen radio' actually designed for the kitchen
Once you've identified the best spot, all you have to do to put the RDK-2 up is undo the two large thumable screws that hold the fixing bracket in place on the top of the unit. Mark where the radio is going, remove the bracket completely so you can see where the drill holes go, drill the holes, screw on the bracket, fit the radio and the job is done. The whole process took us around ten minutes.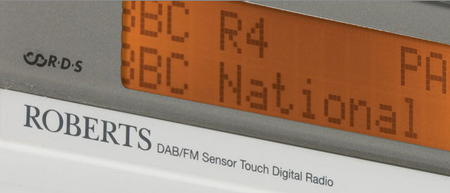 The RDK-2 has a clear 16 x 2 display...
You can adjust the degree to which the radio hangs down from the surface, so you can get it flush to the bottom of the cupboard of leave a bit of space. We found that leaving a bit of a space was best as it makes some of the other radio's functions a little easier to use.
The radio has four main operating modes: DAB, FM, playlist mode and auxiliary input. There's also an SD card slot for recording radio programmes in MP2 or playing back MP3 files made elsewhere. This function is accessed by selecting the playlist mode. Repeatedly pressing the Band button toggles the unit between its main functions, though the auxiliary input is automatically selected if an external devices is connected to the RDK-2's 3.5mm jack.
This is where leaving a little gap comes in handy, as a personal CD or MP3 player can sit neatly on top of the unit during use.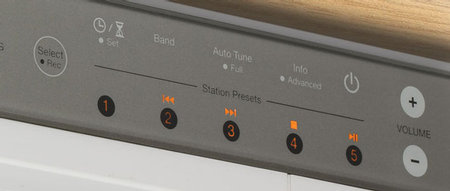 ...and wipe-clean controls
As the unit is designed specifically to survive in a kitchen there are no conventional buttons. Instead, it has a wipe-clean panel with touch-sensitive controls. You need to make sure no moisture builds up on the panel as this does affect the sensitivity, but generally the panel is very accurate and gives fast access the unit's functions. The layout is clear and combines the file playback buttons and favorites storing/access into the same four buttons at the base of the panel.
Sponsored: Minds Mastering Machines - Call for papers now open