Roberts RDK-2 kitchen radio
A 'kitchen radio' actually designed for the kitchen
Review Many radios are dubbed 'kitchen radios' solely for the reason that this is the room they end up getting most of their use in. Roberts has gone the whole hog and designed a radio specifically for kitchen use.
The first thing to note about the RDK-2 is that not only is it designed for the kitchen from a functionality perspective, it's intended to become part of the kitchen's fixtures and fittings. It's designed to be mounted to the underside of a kitchen cupboard.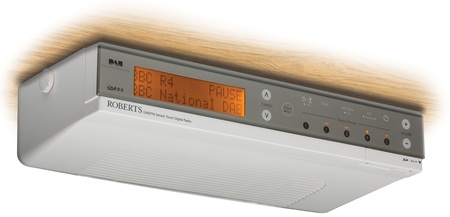 Roberts' RDK-2: at last, a kitchen radio designed for kitchens
It's not a bad idea this - radios that find a permanent home on a kitchen surface often become covered in all manner of grime and general stickiness. Still, a little DIY competence is needed to get the unit fitted, so if all your shelves end up wonky, this product is probably not for you.
For the rest of us, installation is straightforward. The cupboard you pick for mounting should be away from direct sources of heat. A good tip is to check the reception where you intent to hang the unit before doing the fixing. This sounds obvious, but it's one of those things that can easily get overlooked in the desire to get the unit up and running quickly.
Another thing that needs a bit of thought is making sure the power cord is long enough to reach a power point. In fact, Roberts could have helped by fitting a longer cord. The unit is supplied with a simple wire FM/DAB aerial which provides decent reception, but there's an F-type socket on the back also if you need to something more serious.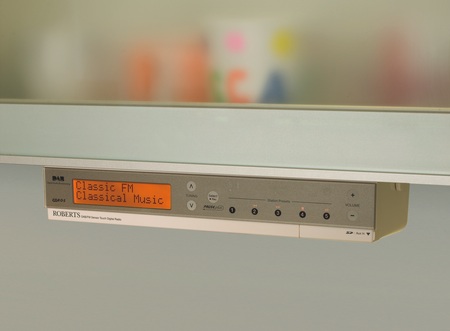 Have cupboard, have place to hang radio
When testing the proposed site for signal strength, if you're using the wire antenna, it's a good idea to fix the aerial in the proposed spot with a bit of tape. Holding the aerial in place may well give a false reading. With aerials of this type, it's more usual to get the best signal by fixing the aerial vertically rather than horizontally - that was certainly the case with our unit. It's also a good make sure you're not near any water pipes or other metal objects as this can affect reception.
Sponsored: Minds Mastering Machines - Call for papers now open