Original lightsabre sale brings big, big bucks
Sherrving! Kerrrching!
Luke Skywalker's original lightsabre has sold at auction for around $56,000 (£37,000/€41,000) more than the estimated guide price.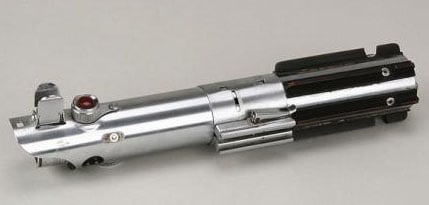 Mark Hamill's lightsabre sold for $240,000
The lightsabre, which was used by actor Mark Hamill in both Star Wars and The Empire Strikes Back, was bought for $240,000 (£160,000/€178,000) at an auction in Hollywood.
Aside from memories, the mystery buyer has only really bought old parts of a old photography flashgun – which the lightsabre prop was constructed from back in the day.
Other buyers also paid out $120,000 (£80,000/€89,000) for C-3PO's helmet, a whopping $90,000 (£60,000/€66,000) for the leather Wolverine suit from X-Men and $39,000 (£26,000/€28,000) for the Riddler costume worn by Jim Carrey in Batman Forever.
Sponsored: RAID: End of an era?