Flab-fighting EV powered by pizza
No pain, no gain - and no mileage either
'Leccy Tech While the debate rages over the best way to power the electric cars of tomorrow – plug-in charge, petrol-hybrid or hydrogen fuel-cell - we've yet to hear the case being made for fish'n'chips, pizza or the quarter pounder.
Actually, the target audience of the GYM electric vehicle probably regard their bodies as temples and so are unlikely to desecrate it with anything less than organic cottage cheese and alfalfa sprouts.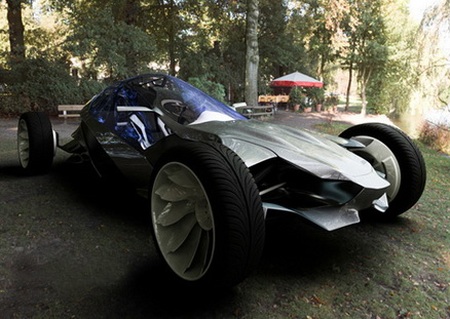 The GYM: pizza powered?
Designed by Da Feng, a student at Coventry University, as part of a competition sponsored by creative design consultancy P4 Cad Cam, the GYM is a single-seat plug-in EV under all that F1-racer-meets-jet-fighter styling.
Inside the cabin, the fixtures and fittings are set up to provide a mobile gym with the energy thus created being used to top up the battery charge. Apparently, the GYM's cabin can emulate a step or rowing machine by using the sliding seat, steering wheel and pedals, and a bench press and pull-up bars by using the handles built into the roof. The tensioned side arms of the seat work like a weights rack, it says here.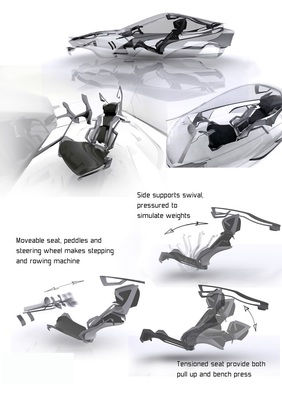 Park and work out
There's no mention of a set of rotary pedals, which would seem the most obvious and efficient way to transfer energy from the driver to the power pack while also having the side effect of allowing you to in effect pedal down the outside lane of the M6 at 70mph!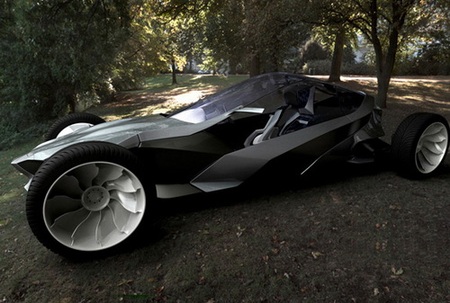 'I was just toning up, officer. Honest.'
Feng has provided no details of what sort of mechanical efficiency the driver's sweaty exertions are translated with, or what additions to the vehicle's cruising range can be expected from 30 minutes spent parked up and chasing "the burn".
Reports that the production version of the GYM will get around "quiet electric car syndrome" by having Olivia Newton John's Physical play both inside and outside the vehicle when stationary or in motion couldn't be confirmed at the time of going to press.*
*OK, we made that last bit up.
Sponsored: Minds Mastering Machines - Call for papers now open