Couple to get hitched in Halo wedding
Just think of the honeymoon...
For most women, the ideal wedding consists of a diamond ring, flowers, big dresses and bridesmaids. But one couple's chosen to do away with tradition in favour of a Halo-themed wedding.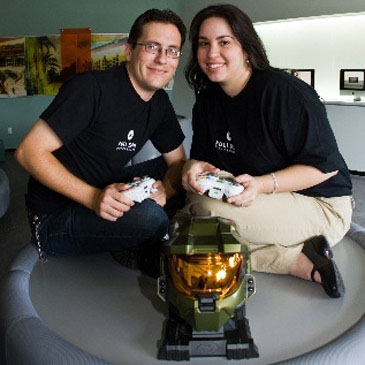 I, Psychovandal, do take thee, SickNDeHed
John Henry, 26, and Desirai Labrada, 29, plan to tie the knot next month in a ceremony that'll be Halo style down to the very last detail, according to an MTV report.
For example, the couple's rings will be shaped like the videogame's halo spacestations, and the flowers used will sport Spartan crimson and royal blue hues.
The multi-tiered cake also has a Halo architectural flavour, and the traditional wedding music's been dumped in favour of, you guessed it, the videogame's theme tune.
Much to our disappointment, the bride and groom won't be dressed as the Master Chief and Cortana. However, Labrada will wear a Halo emblem on her dress and the poor soul chosen to preside over the odd pair's nuptuals is expected to don armour.
Henry and Labrada were originally online Halo partners living in different states. But Labrada – who has the aptly named "SickNDeHed" online gaming pseudonym; the groom's "Psychovandal" – later moved from New York to Florida to live with Henry.
The happy couple will wed on January 17 next year – 117 being the Master Chief's Spartan number. Any gamers that fancy virtually congratulating the happy couple are invited to join them in a bride Vs groom Halo tournament online afterward. Details online.
Sponsored: Minds Mastering Machines - Call for papers now open