Cryptic colour clock
Bonkers
Tokyoflash is known for its wacky watches. But even its fans would have difficulty telling the time using a rival retailer's latest troublesome timepiece.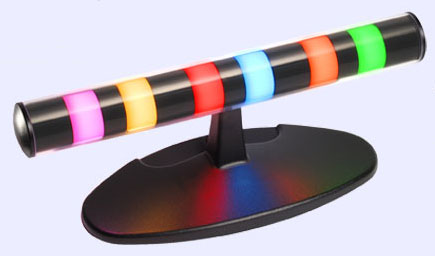 Chronochrome: count the rings to track time
Chronochrome can simultaneously display six coloured rings across its horizontal bar. The first two shades show the hour, the second two coloured rings dictate minutes and the final grouping show seconds. For example, pink is number one, green is number five and cyan is number 8.
So if the bar shows pink and red, orange and yellow, and green and blue, then the time, according to Chronochrome's scale, is 12:34:56.
Admittedly, watching the coloured strips showing seconds changing, well, every second could be quite fun for a few minutes seconds. We're not quite sure why anyone would want to tax themselves enough to work out the time according to a colour chart.
It's worth noting that the clock's colours can also be changed so that it works as a mood-light and night-light. You can also display the time in the usual format, if you want.
Chronochrome is available now online around £50 ($76/€55).
Sponsored: Minds Mastering Machines - Call for papers now open