Nokia invents social networking mapping
Like Facebook, only with maps
Nokia nuts now only have one excuse left for getting lost: their phone running out of power. Why? Because the Finnish phone firm's updated its mapping software to include every navigation tool the urban adventurer could possibly need.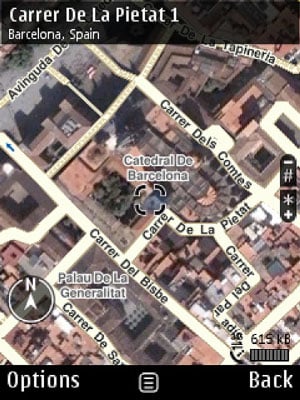 Nokia Maps, now with added 3D landmarks
Version 3.0 of Nokia Maps adds high-resolution aerial images of destinations, 3D landmarks from 216 cities, and a speed camera alert system to keep racing demons out of trouble.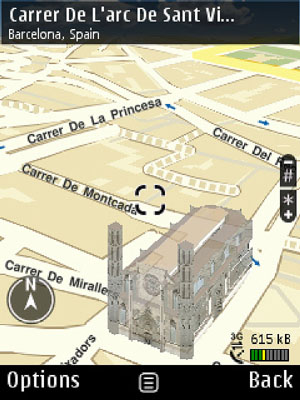 Tempt friends to join in your mapping 'adventures'
Country-specific traffic information has also been added and you'll also be able to access realtime information about goings on, such as films and events, for over 450 locations.
Nokia's appears to be turning Maps into some form of social networking service, though, with plans to make it somewhere that people can "share their location and all their personally and socially meaningful content with friends, inviting them to join in activates and share experiences".
The idea doesn't sound quite as appealing as Facebook, but a social mapping craze is bound to develop anyway, isn't it?
COMMENTS
Nokia were not the first to invent social mapping
The originating inventor of social mapping was myself with a UK patent application dated 16th January 1989 culminating in three US patents 5,712,679; 6,181,373; 6,469,735 and one Japanese patent; 2896930. But I could never find funding, (A VERY long story). The first corporate use of social mapping was by Epson, in the shape of the Seiko-Epson LOCATIO system that, I am told by my Japanese Patent Agent, they abandoned upon the grant of my Japanese patent. But by then they were about a decade behind me, but with massive investment. Something I could never receive being in the UK where the idea of someone, anyone, having a new idea worth long term investment was, as today, laughed at.......... I have taken this from the Epson web site.
http://www.epson.co.jp/e/newsroom/tech_news/tnl070830.htm
"Remarkably, the GPS semiconductor technology used in all the handsets was supplied by one company: Epson. To date, Epson has shipped more than 10 million of the GPS devices to manufacturers of 3G handsets.
"We were thrilled with this major design-in win," says Yutaka Kitazawa, General Manager of Epson's GPS Business Development Department. "It was a reward for a decade of pioneering research and development."
After Epson established the GPS business unit in 1995, Kitazawa's group came up with idea of creating a multifunction handheld device comprising a personal digital assistant or PDA, digital camera, mobile phone, and GPS that would work on low power. Dubbed the Locatio, the device was launched in 1998 together with both an e-mail service and a mapping service aimed at making the GPS technology more useful. "It was a revolutionary device," says Kitazawa. "Unfortunately, it was ahead of its time for most consumers. Still, we learned a lot from the experience."
The reality is that NOKIA are about twenty years behind the curve and do not own all the rights to which they are now addressing their efforts.