LG KF300 budget clamshell phone
An easy-to-use offering for the non-techie in your life
Review So what if you're after a phone that doesn't have an eight-megapixel camera, smartphone functionality or touchscreen tech? LG's been busy of late speccing up and serving out a pick-and-mix of eye-catching and - occasionally - innovative mobiles, but they're not for everyone.
Enter LG's KF300, aimed squarely at those mobile buyers looking for something straightforward and easy to use, but still want a smidgeon of style too.

LG's KF300: easy-to-read buttons
LG has added a sprinkling of features designed to make this handset a shade more user-friendly than most. Large number keys with easy-on-the-eyesight labelling greet you when the clamshell's flipped open, while under the display are a row of keys for specific functions – again, clearly marked for easy finger-jabbing.
The KF300 may not be a heavy-puncher like the Renoir, but it's not a complete hair-shirter either. It omits 3G, relying instead on quad-band GPRS/Edge for data, but includes a two-megapixel camera, a music player and an FM radio. MicroSD card support means you can carry around up to 2GB worth of tunes in the phone.
LG will be expecting the bodywork to catch punters' eyes too, with a shimmering, light-catching surface on the outside of the flip, and a businesslike bit of chrome trim around the sides and the top. The back panel is covered in tactile rubber-feel material.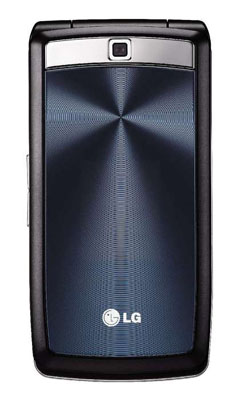 Shimmery metal effect
Emerging from under the front panel is a secondary colour display that provides a clock in standby mode, or incoming caller information when activated.
COMMENTS
Some nice points
The white on black keypad font has a nice retro look about it and I can see this being a possible Xmas gift for my 72 year old mother. Shame its (currently) only available from those cutpurses at Orange at the moment, if it gets released with a decent mobe company then i will consider a purchase.
Oh sh*t.. I used the m*be word, apologies to everyone :)
I wish this had been available earlier
I spent bloody ages looking for a suitable phone for my Mum (71 going on 17). Still, she's happy with her candybar HandleEasy 330gsm from BioAcoustics: https://sslrelay.com/www.bioacoustics.biz/sess/utn;jsessionid=154945fab294892/shopdata/index.shopscript
Next lesson: Do not put phone at bottom of handbag!
Paul
Not everyone needs a leading edge phone
Me for instance!
I have the KF300s predecessor with Orange, the F2250, for nearly 3 years now.
http://www.gsmarena.com/lg_f2250-pictures-1336.php
I phone friends and text them and that's about it. I like the bigger size of a clamshell, it's easier to hold and bigger keys make it easier for adult hands :-) It charges up well, and gives good clear calls.
And you say this new one has all this, plus a camera? And a radio? and it plays mp3s? and your reviewer says its just as stylish and well made as the old one?
Straightforward inexpensive phone that lots of people will enjoy, from the sound of it!