Microsoft Surface helps Earth stand still
Tabletop PC crops up in new sci-fi flick
Microsoft Surface has already wowed punters around the globe. But now the interactive coffee table's made the Earth stand still, sort of.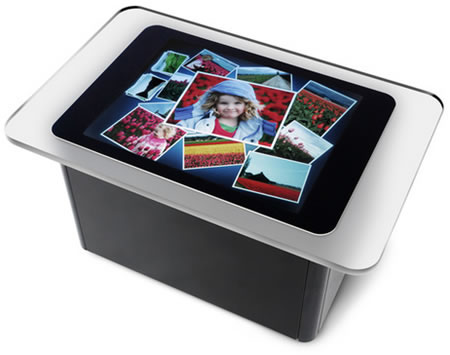 Klaatu barada nikto! (trans. 'You will be ejected from the cinema if caught filming it with your iPhone')
Register Hardware's hacks almost choked on their popcorn last night when they caught sight of Surface in Keanu Reeves' latest apocalyptic flick The Day The Earth Stood Still.
Microsoft's tabletop PC UI gets a good 20- to 30-second promo in the film, when it's used by the US government as a way of studying the alien-cum-human Klaatu, played by Reeves.
In the film, Klaatu emerges from a Whale blubber-like cocoon and quickly grows into human form. Sexy scientist Helen Benson - played by Jennifer Connelly – calls up growth-speed charts from Surface, which she then slides around the table like ice moving over a kitchen hob.
The US Secretary of State – better known as Kathy Bates – and her crew also place three markers on the table, which Surface interacts with to help show the nervous officials exactly where alien spheres have landed.
But what did we think of the film? Average, we'd say. Some of the special effects were quite unrealistic, there's not much action in the middle of the film and the ending's a bit of a letdown.
Come back, Robert Wise, all is forgiven. Even Star Trek: the Motion Picture...
Actually, that's the best of the lot - Ed.
Sponsored: Minds Mastering Machines - Call for papers now open