Datawind PocketSurfer 2R internet palmtop
More 'cheaps' than a budgie
The page doesn't look great when it's all there. We've mentioned the dithering, but the colours are still washed out, and the passive matrix nature of the LCD reveals itself in the ghost lines that extend the edges of every box and panel. And in the way the cursor vanishes - 'submarining', it's called - when you move it more quickly than the screen can cope with.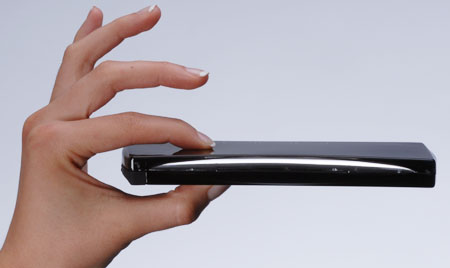 Skinny
Other browsing niggles include the way the cursor doesn't change when you move it over links, which can be hard to spot on some colour combinations, and a lack of support for media files.
It will play Flash vidoes, sort of, as a trip to YouTube proved. But the frame rate's less than one a second. The dithering makes movies unwatchable in any case.
There's no local storage, but you can access files kept in online repositories. If you think the 2R lacks gadgetry, it does have GPS on board, but by Datawind's own admission, it's not a state-of-the-art unit and it won't work indoors. But even in the back garden of our North London flat, it put us in the middle of the Thames...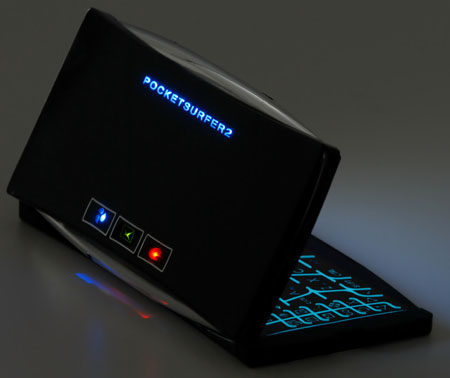 It lights up!
The 2R's battery life isn't anything to shout about, either. From a full charge, we got around four hours' near continuous usage out of it, so your looking a one or two days between charges. It has a mini USB port for charging. The connector sits beneath a rubber cover that we couldn't to go back on a lay flat no matter how hard we tried.
And that's the problem, really: the hardware's so darned shoddy. Offering consumers a very low cost way to access the net on the move is a good thing, and by and large the GPRS link works. It's not for speed freaks, but it's fine for email and usable for casual browsing. Datawind gets a thumbs up for this.
And then loses it for the hardware. The build quality feels poor, and the materials don't give us confidence in the gadget's robustness. It doesn't seem fragile, just - yes - cheap.
Verdict
Techies will hate the PocketSurfer 2R. It's too slow, there's no Wi-Fi, the screen's awful and the build quality leaves a lot to be desired, they'll say. But get past the early 1990s looks - and the early 1990s technology - and you have a gadget that makes accessing email easy. And very cheap.
More Mobile Internet Devices...
| | | | |
| --- | --- | --- | --- |
| iPod Touch | Novatel MC950D | Sierra Compass 885 | BlackBerry Storm |
Sponsored: Minds Mastering Machines - Call for papers now open

Datawind PocketSurfer 2R internet palmtop
Cheap but not cheerful hardware limits a decent connectivity compromise between speed and price.