Datawind PocketSurfer 2R internet palmtop
More 'cheaps' than a budgie
The display initially settles at an angle of about 150° to the keyboard, but it can be pushed back so it's flat which is exactly the right position when you're holding the PocketSurfer in both hands, thumbs poised for typing.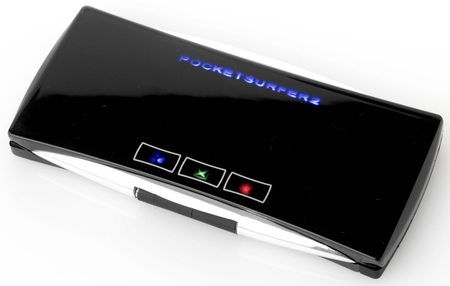 Shiny and illuminated
To the top right of the keyboard is a small touchpad that's used not only for steering a pointer around the screen but for scrolling around pages - the previous model had a five-way navpad. The 2R renders pages at the size their designers intended them, using those 640 x 240 pixels as a window onto the bigger page. You can zoom in and out - hold the zoom key down and run your finger up the touchpad - but even large text becomes increasingly indistinct as you move out thanks to the poor colour resolution. It's better to leave pages at full size and get used to scrolling. Lots of scrolling, if you use the touchpad to move the cursor down the screen.
It's quicker to press the left-hand side scroll button so that the page scrolls with the touchpad. You adjust the brightness and zoom in the same way. In addition to these controls, the panel to the left of the Qwerty array has home, search, stop, page refresh and page stepping keys, just like a browser. It also has a settings key, primarily used to edit the browser's favourites, and a key to take you straight to the log-on page of your preferred email service.
Datawind doesn't provide this - it figures, reasonably, you can make your own choice from among Google, Hotmail, Yahoo! etc.
But back to the scroll button: it's lockable, so you can pan around a page without having to keep the button held down. But you'll need to get control of the cursor sooner or later, and then steering it around the screen becomes a pain because it's slow.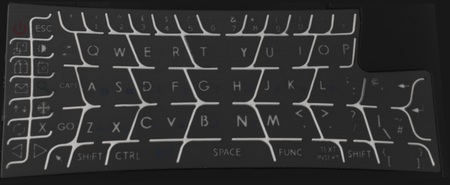 The 'new look' keyboard
Indeed, the PocketSurfer as a whole is slow. Rendering the machine's pre-defined home page takes around five seconds to load and be completely displayed.
Sponsored: Minds Mastering Machines - Call for papers now open