Datawind PocketSurfer 2R internet palmtop
More 'cheaps' than a budgie
But GPRS is slow. Edge technology helps, but the PocketSurfer doesn't use it. Datawind's solution is compression and cacheing. All page requests are routed through its servers, which get the page and image data - very quick, if it's in the cache - and squash it before flinging out to your PocketSurfer.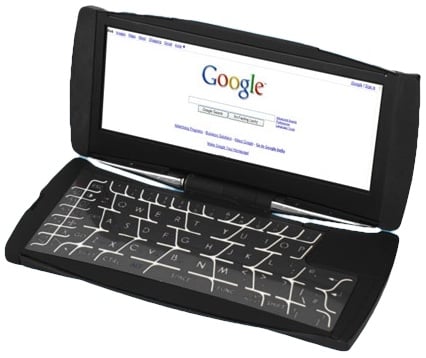 Google doesn't quite look like this on the 16-colour screen
Which brings us to the hardware. The 2R is a classic-sized clamshell palmtop - think of a skinny Nokia Communicator. It's got a piano black fingerprint-magnet lid, but it's matte inside. There are some chrome-style plastic bits too, but we have to say the whole thing looks and feels cheap. A finely tooled device like the iPhone or any other major-vendor handset this isn't. It looks and feels unfinished, like a design mock-up or a prototype, not a production device.
Edges don't line up. Sections of the hinge unit have their hollow interiors exposed. You can see the stains where a panel embedded into the central part of the hinge has been glued in place.
Opening the 2R - which is at least thin and light - reveals the 640 x 240 screen capable of showing 256 colours, though it's initially set to 16. And you can knock off about 30 pixels vertically for the persistent status bar. The keyboard is a flat metal sheet with gaps cut to demarcate each key - and for the backlight to glow through - and individual pressure switches beneath.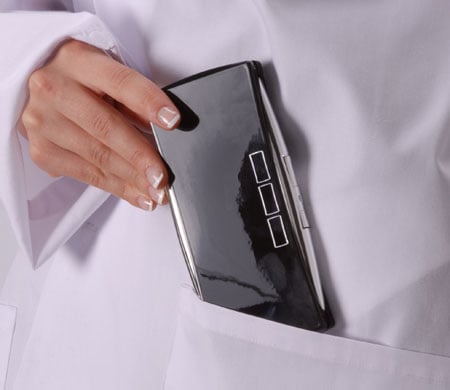 Very pocketable
It's actually pleasant to use, though Datawind's done itself no favours with the look of the thing, which really isn't very good. Holding the device in two hands and typing with your thumbs feels entirely natural and comfortable, but anyone used to typing by touch or just with two index fingers won't like it. The keyboard could be better made, but we enjoyed using it far more than we expected we would.
Sponsored: Minds Mastering Machines - Call for papers now open